Crypto investors are expanding their portfolio to accommodate recently launched privacy-focused coins – Beam and GRIN. The two coins have been attracting attention due to their uses of the Mimblewimble protocol which has been dubbed as superior compared to the one used by other privacy-focused coins such as Monero.
The two coins have been recording an increase in price. Recently, Beam was exchanging hands at $0.35, but now it's up by more than 100 percent. On a 24-hour period, Beam increased by over 20 percent. Currently, Beam has a market capitalization of 31.8 million US dollars, a circulating supply of 23.5 million, and a maximum supply of 262.8 million.
Beam up over 100%, GRIN up over 80%
In the recent past, the price of Beam has been rapidly appreciating. For example, the coin opened the month at $0.44 on June 1 a price that it has long forgotten. On June 8 the coin closed the day trading at $0.55 a price that it carried until June 11. On June 17, Beam was exchanging hands at above $1.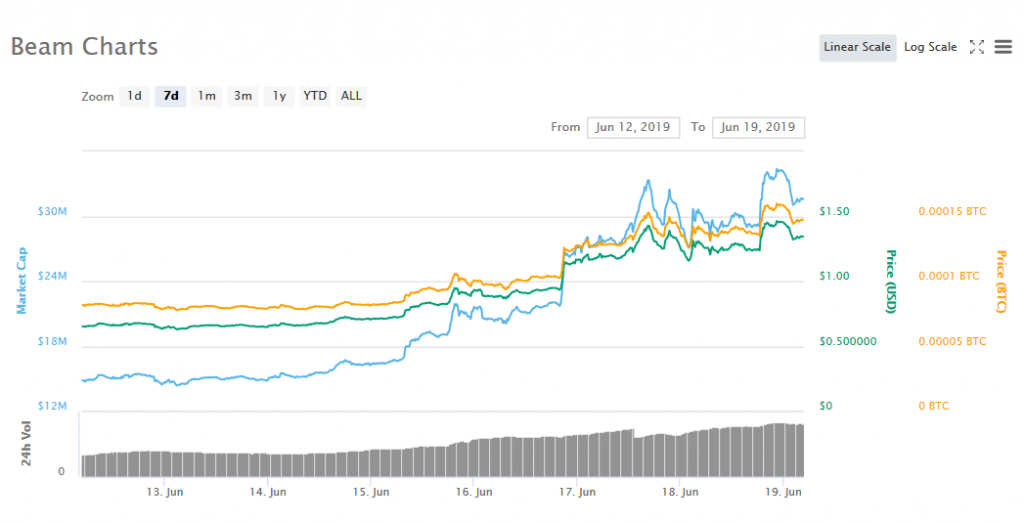 GRIN, on the other hand, did not fall behind. In the last 7 days, the coin has increased by over 80 percent. The increase is recorded on the coins 7-day trading historical data. According to data from Coinmarketcap, GRIN opened the 7-day trading period at $3.01 on June 10. The price kept increasing to close at $3.70 on June 13. On June 16, GRIN was exchanging hands at $4.92 growing further to close June 17 at $6.31. GRIN has a market cap of 76.2 million US dollars, a 24-hour volume of 35.9 million US dollars and a circulating supply of 13.3 million.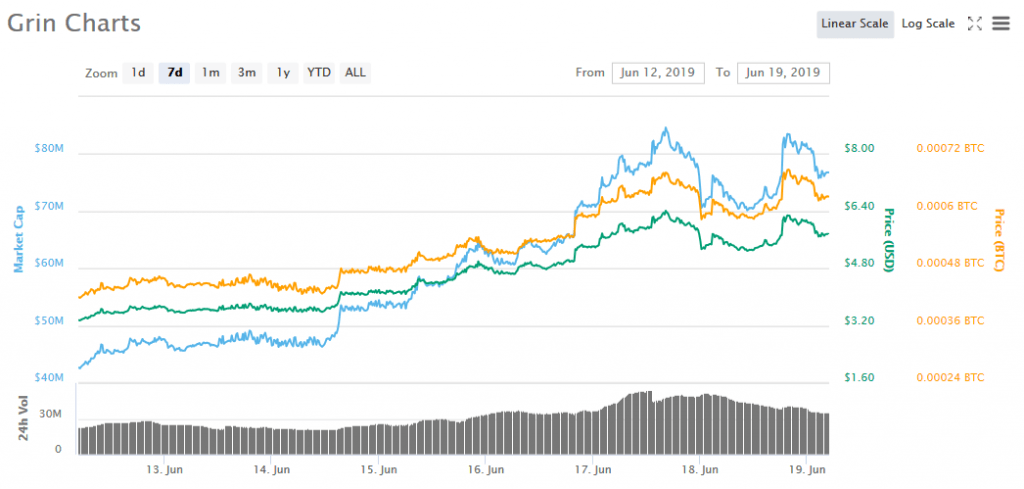 GRIN has the potential of recording an even bigger increase. In May, for example, the price of the privacy coin was hovering around $2.50, and now it's above $6 in less than a month.
Why the sustained increase?
While cryptocurrency prices can increase randomly, in most cases, there is a major event that is pulling crypto investors towards one crypto project and not the other. In the case of Beam and GRIN, the tightening of the rules by regulators may be part of the reason why crypto investors are turning to privacy-focused coins.
Recently, the United States Securities and Exchange Commission is believed to have influenced Binance, a leading global crypto exchange, into cutting ties with its US customers. Binance's decentralized exchange, Binance DEX will also geo-fence users from the United States.
Additionally, regulators around the globe are tracking crypto investors for tax purposes. This gives the investors a solid reason to hide behind privacy-focused coins like Beam and GRIN.