Swag.live is the number one adult private platform in Asia and possibly for crypto users. With a history of providing its members the ability to use cryptocurrencies, it is a great place for crypto enthusiasts looking for great interactive adult content. 

What is Swag?
Set up in 2017, Swag is a company that connects real models with their fans. Models create exclusive content and are then paid by their admirers to receive them. With 1.5 million registered users and up to 600 new models onboarding each month, it is certainly a hit.

The pay-to-view social messaging application service incentivizes fan interaction, with models getting paid for responses to messages. Not only that, but fans can get customized videos and pictures if they send gifts to the models. 
But if you're interested in creating the most mind-blowing NSFW art that could satisfy your desires, think of hyperrealistic explicit photos of Chun-li from Street Fighter or Cleopatra drenched in oil naked. But we want to take things so far beyond your wildest dreams. We want you to be able to create just about anything your twisted mind could fathom; any characters, versions of them, in any positions, and any environment you want.
Not only can you produce the most spectacular fantasies that would blow your mind, but you can do so at a rapid pace. You could literally create hundreds of luscious content, think of the most beautiful babes in pop culture like videogames, movies, you name it.
Find out more about NSFW AI-Generated art that will blow your mind.
Who's on Swag?
Swag features 1,000s of girls. Due to the popularity of the platform, it has grown massively from mostly featuring Asian models to girls from Spain and beyond.
Be sure to check Swag out on Twitter @swaglive_app where you can learn more about the Swag models and how you can connect with them on the platform. You may even find some of the Swaggers on Twitter!
How do I sign up?
Available on your phone through the Swag app or on their official website, Swag.live, the signing up process is quick and easy. Here is a step by step guide:
When you enter the website you will be asked to provide your email address in order to enter.
2. Following inputting your email, the website will send you a six-digit pin code to continue the process. The verification email will give you the option to input the code or click to verify.
3. Once you have put in the pin code or confirmed the email, Swag will then ask you to create a username, input your date of birth and your preference between male and female.
After this, you are on the site and ready to go!
The first thing you need to be aware of is that in order to view content, interact with models and use various aspects of the site, you must hold diamonds.

To purchase diamonds, you can either click on the diamond logo on the top right of the screen or go to the settings part and navigate to the buy diamonds section. There are four fiat currencies accepted — US Dollars (USD), Pound Sterling (GBP), Euro (EUR), and New Taiwan Dollar (NT). Cryptocurrencies are also accepted but this is a little more difficult to find.

How to use cryptocurrencies?
You may at first be wondering, how do I use my cryptocurrencies? The option to use crypto is not available in the buy diamond section. You must go to the customer service section which can be found when clicking on this logo:
After you have done this, tell them you would like to use cryptocurrencies to buy diamonds. This process is very fast and the reply was within minutes.

The only accepted cryptocurrency is MITH tokens at the moment, following their partnership earlier this year. MITH coins are the native token for Mithril, a social media mining company created by Jeffrey Huang, an A list Asian musician from Taiwan.

Currently, the pricing rate equates to 2320 MITH tokens for 24,999 diamonds. MITH tokens have a current price of $0.016163 USD (source: Coinmarketcap), meaning that to buy 24,999 diamonds on Swag you need to pay 37.5 US dollars. This makes it cheaper than the US dollar pricing of $49.99 on Swag for that amount of diamonds, making MITH tokens more cost-effective.
How to buy diamonds?
After reaching out to customer service you will need to ask them how to buy. The customer service team will give you an address which in this case was: SWAG-VIP0x93Bf702f457aB8c0138A70Cd08532a350604f8B5 to send your MITH tokens. Once this is done, you need to give them your transaction ID.
After giving your transaction ID you will be handed your diamonds. The diamonds will allow you to access many videos, message models and view exclusive content. So, what are you waiting for? Use your Mithril tokens today and unlock the great features and exclusive X rated content.
Let's check out Swag!
The homepage for Swag.live immediately shows you a marquee of pre-recorded videos from Swaggers. Further down you can also browse through more pre-recorded videos organised into categories such as "Everyone's ogling", "All star flix", "New flix" and "Top flix". If you'd rather interact with the Swag girls live, further down the page there are 100s of profiles of Swaggers you can click into and watch live.
Still can't find something to your liking? You can utilise Swag's convenient search function. Simply click the magnifying glass icon at the bottom of your browser and you can search, browse Flix, check out profiles of various Swaggers, look at their Stories or search by Hashtag.
Swag also gives users the chance to "try before you buy" with their Free Zone. Click on Free Zone on the top left-hand corner of the screen and you will be treated to 100s of FREE content provided by the Swag girls. This section alone can already keep you entertained for hours on end. Users can also access their new video features called Flixs. These flixes are longer-form videos that see a range of porn stars perform, with professional quality results. They began in October last year and have been very popular.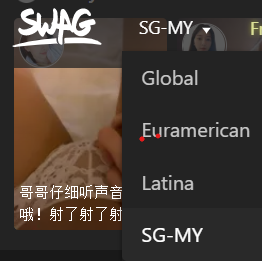 Swag has also gone international and has various models which you can see depending on their location. There is a Global section, EurAmerican, Latina and Singapore/Malaysia one- which includes Japanese. Most performers are from Taiwan, but an increasing number of swaggers are coming from Europe and South America.
Swaggers also frequently have their own community events such as lucky draws, giveaways and even meet-ups across the globe. So its definitely worth checking out what each Swag girl is doing for her community and join in the fun!
Verdict: Should you use Swag?
Swag is one of the few adult entertainment websites that offer payment in cryptocurrencies. Whilst we did find it challenging to set up our account to be able to pay with Mithril tokens, their live customer service is extremely responsive and helpful.
For those who don't want to pay with cryptocurrencies, Swag also supports credit card payments. Payments are to buy diamonds, which users can give to the girls to show their support or for requests.
In conclusion, if you haven't gone on Swag you should get started right away. Swag offers a huge platform of girls to choose from. Furthermore, you can sample the content for FREE or personalise your experience with diamonds.
The girls on Swag are also certainly using their creativity and hosting all sorts of community events for its members. There's parties to check out and personal videos from the girls to be won!
Swag themselves also frequently hold diamond giveaways. For Chinese New Year, they had a lucky draw to give out 1,000 diamonds to some lucky winners. With Valentines Day coming around the corner, we are quite sure there's gonna be another huge giveaway in store!
Updates: 06/05/2020 This post was updated to show the new flix videos and the new categories.