Are you familiar with oracles? No, not the ones that give out prophesies. We're talking about the oracles used in ChainLink.
Basically, the significance of the ChainLink Network is its ingenious combination of smart contracts and oracles.
A smart contract's purpose is to automatically facilitate an agreement between different parties while an oracle provides access to data from the outside world. Together, they can revolutionize several industries, rendering traditional contracts and centralized digital agreements obsolete.
But ever since the concept of 'oracles' in blockchain systems have been conceived, there have been numerous vulnerabilities identified.
ChainLink, however, claims to have the same security guarantees in their oracles as much as their smart contracts.
ChainLink Network
The core function of the ChainLink network is to bridge the on-chain and off-chain environment in order to successfully run fully decentralized smart contracts that are connected to the real world. Although it was originally built on Ethereum, it now supports the Bitcoin network, Hyperledger, and other leading blockchains that have smart contract functionality.
The on-chain (blockchain) and the off-chain components of the network coordinate to ensure that the smart contracts are secure, the data is accurate, and the oracle network remains decentralized.
The developers designed the ChainLink network modularly, which means that the components of the system are upgradeable. Furthermore, it is also quite flexible when it comes to competing implementations.
Decentralized Oracle Network
Encoded contracts traditionally run in a centralized manner, which make them susceptible to corrupt influences such as tampering, termination, or deletion by a controlling party.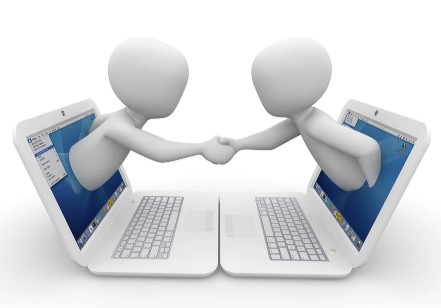 Then smart contracts came along to recreate the trust model, one in which the contract's execution is guaranteed and bound by the parties in agreement, without the reliance of an arbiter.
This means that no single party has the privilege to tamper or alter the encoded agreement.
With that in mind, it is obvious that a smart contract is a superior alternative to a traditional contract. However, it is still not a full solution.
Smart contracts exist only on the blockchain; in cyberspace. This means that they can't access real-world data on their own.
Namely, they can't connect to outside resources like weather data and APIs to feed to their network. This is a common problem for blockchains with smart contract functionality.
The common solution is to employ an oracle — a node that feeds real-world data to the blockchain. But then comes another problem: what if the oracle is secretly a fraud? How do we ensure the integrity of the whole system?
We create a decentralized oracle network! What this implies is that the oracles of the ChainLink network are distributed. Instead of just one, a collection of different oracles will be tasked to siphon the same real-world data and feed it to the system.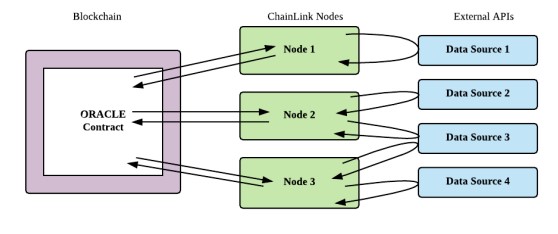 The system will then check if they have similar inputs to verify which ones are sending tampered or wrong data, and thus, eliminate them. This incentivizes the oracles in the network to remain authentic and hold themselves accountable to the accuracy of the data they feed on-chain.
On-chain functionality
The on-chain architecture is what we typically call the 'blockchain'. It includes the smart contracts and on-chain oracles.
Here are the three components of ChainLink's on-chain functions, as well as their step-by-step process:
reputation contract — ensures the integrity and reliability of the oracle of provider
order-matchmaking contract — if an oracle provider is confirmed to be trustworthy, it is passed to this contract, which matches it to a designated oracle
aggregating contract — collects the responses of the oracle providers and calculates the result of the ChainLink request.
Off-chain functionality
The off-chain component of ChainLink is a network of oracle nodes that exist outside, yet still connected to multiple blockchains. These nodes independently collect data that are being requested.
The entirety of the collected data is processed in the ChainLink Core, an application layer that bridges a blockchain to off-chain data providers.

An important detail to note is that the data collection and transmission services provided by off-chain nodes come with a price. They are paid in LINK tokens, which gives this currency value.
Another utility for off-chain nodes is the integration of decentralized applications (dApps) on different blockchain networks.
LINK
LINK is the native asset of the ChainLink network. The token will be used to pay node operators for their services.
The LINK token is built on Ethereum's ERC-677 standard which includes all the benefits of an ERC-20 token, added with 'transfer and call' functionality. This enables the token to contain a data payload, which is utilized by node operators to retrieve data for smart contracts.
As the ChainLink network grows, so does the demand and price of LINK. There are two ways to make money from this:
Buy and hodl the token, and wait for it to appreciate.
Become a service provider (node operator, payment provider, data provider, etc.) to earn LINK and convert them to fiat.
Any wallet that handles ERC-20 tokens should be able to support LINK.
More Token Specs
| | |
| --- | --- |
| Ticker Symbol | LINK |
| Asset Type | Utility Token |
| Current Supply / Total Supply | 350,000,000 / 1,000,000,000 |
| Launch Date | September 21, 2017 |
Exchanges to Buy LINK
Binance
Coinbase Pro
OKEx
Kraken
Huobi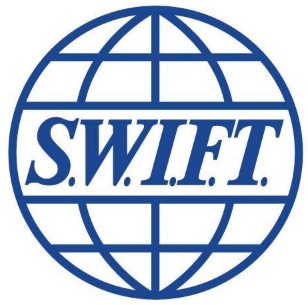 ChainLink Partnerships
The vast majority of blockchain projects focus on marketing. But it appears that ChainLink takes a different approach to growth. Instead of heavy promotion, they devote themselves to building partnerships. One of those partnerships is with SWIFT, a titan amongst global financial networks.
ChainLink is helping SWIFT build the SWIFT Smart Oracle, which could lead to integration with the ChainLink network in the future.
Safe to say that its Oracle Network is one of the best if not the best of its kind that currently exists in the space.

This is further evidenced by Oracle's decision to use the technology together with its own Oracle blockchain to develop new solutions for 20 startups.
This makes ChainLink one of the few blockchain projects that is being used in the real-world that isn't payment-based.
Other ChainLink partners include Google Cloud, DApps Inc, IOST, Streamr, OpenZeppelin, Ocean Protocol, and many more.
ChainLink's Growth in Asia
In 2019, ChainLink journeyed to several cities across China, Japan, Korea, and Singapore to promote the usage of smart contracts. Aiming to expand the ChainLink ecosystem in Asia, the team continues to add project integrations, node operators, data providers, and developers.
Far and wide, they have educated many people about the benefits and significance of decentralized oracles.
Furthermore, they have connected with data providers including Binance, CoinGecko, and Tokenview, and have integrated with other blockchain projects like TomoChain and Ontology.
China
ChainLink always had prominence in China. They have a Chinese-based team and a rapidly-growing community.
ChainLink community members have hosted meetups, translated ChainLink content into their local language, and coordinated with media outlets to expand the project's development throughout China.
Japan
In Japan, ChainLink had collaborated with major players like the Etherereum Enterprise Alliance, Intel, and Hyperledger Avalon to create the Trusted Compute Framework to commence the Devcon 5 event.
On the same week, they revealed their new Price Reference Data Oracle Networks which is now live on the Ethereum network.
This price reference data provides the largest decentralized selection of on-chain price reference which enables developers to grow the DeFi ecosystem. The available USD-paired assets include cryptocurrencies BTC, ETH, DAI, as well as fiat currencies AUD, EUR, CHF, GBP, and many more.
South Korea
The ChainLink team attended the main conference of Korea Blockchain Week, D.Fine, and presented their vision for fully data-aware and off-chain smart contracts.
They also hosted meetups with Tezos and Kyber Network to promote decentralization and real-world applications of smart contracts. The team now owns a satellite office in the region, headed by their Korean community manager.
Future of ChainLink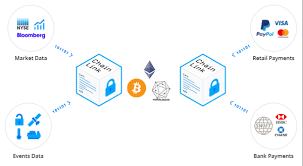 ChainLink is one of the most remarkable projects that utilize the concept of oracles in this space. They seem to be dead-set on expanding their reach by onboarding more partners and creating communities across most parts of the world.
It's a breath of fresh air to find such a project that is more inclined to add more service providers for their network instead of simply encouraging people to buy their token.
This project may be the one to unlock the smart contracts' full potential. Although they don't have the biggest community, they make up for it through the quality of their members.
Furthermore, the fact that they are working with major players both inside and outside the blockchain space is a great sign.