What is Enjin?
Based in Singapore, Enjin is an IT company founded in 2009 which has a focus on gaming and crypto-assets/solutions. They are one of the largest gaming community platform and support over 250,000 gaming communities and around 18.7 million registered gamers.

Yet, it is the work on the crypto side which is most interesting. Often seen as merely a cryptocurrency, Enjin's coin, ENJ is so much more than that. ENJ's main purpose and function are as a token that can be used by developers, business people, and entrepreneurs to mint crypto assets. These assets can be used in a multitude of ways, such as: by games as characters, weapons or vehicles; by retail as collectibles, memberships, or vouchers; and by any business that can benefit from rewarding their customers or employees and the gaming assets can be used cross-games in the 'Multiverse'.

The Project is truly is a one-stop company for all things crypto. From their coins, wallets, games, token sharing and usage – they can also help build games, websites, forums, stores, content management systems (CMS).

Who is behind the Project?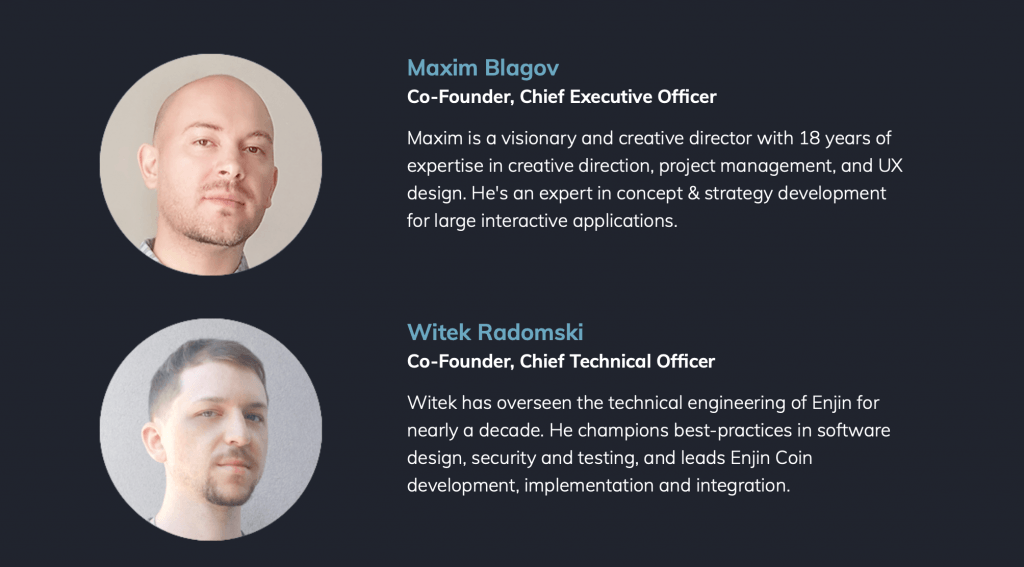 Maxim Blagov and Witek Radomski are the founders of the company, with lots of experience in the field of gaming technology and development. Perhaps Enjin's flagship policy is their influence in the gaming market, especially with buying gaming content. The transparent, decentralized blockchain and blockchain-based items created with Enjin Coin allow users to reduce the high fees and fraud that's rampant in the transfer of virtual goods.

Features of Enjin
Alongside its Ethereum based coin, Enjin also uses smart contracts, with Payment Gateway Contact, Smart Wallet Contract, Custom Coin Registry, Subscription Contract, the Mint, and 'TopList' Contracts. The Project also hosts a public platform API using the JSON-RPC protocol to facilitate methods like checking account balances and accessing the previous smart contracts.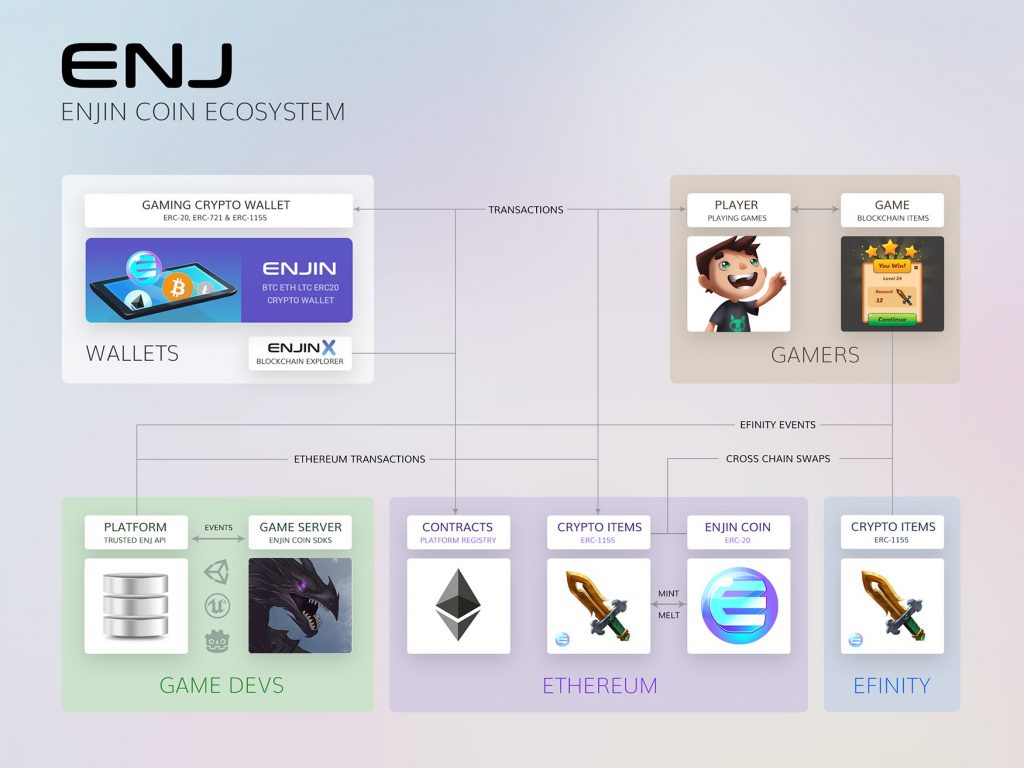 The coin is an ERC20 token built on the Ethereum network and is pretty much available in most exchanges, and unlike most coins, they have their own wallet. The wallet is available for Android and iOS mobile devices and you can also store BTC, ETH, LTC, as well as all ERC20, ERC721, and ERC1155 tokens in the wallet, with more alternative coins set to be available in the future.

The Project made a huge stir after Asia Crypto Today exclusively revealed a rumor the company could be going into partnership with Samsung for their new S10 phone which supports an inbuilt crypto wallet. The Project is going to assist Samsung's new phone in the sending of crypto assets and the ERC-20 Tokens and ERC-1155 for gaming currency.
As mentioned previously, the ENJ saw a huge jump after the Samsung announcement. Yet, overall since its inception in late 2017, it has rarely scaled these heights. It followed the market with a huge run-up in early January 2018 before falling down in 2018. ENJ is adding the benefits of blockchain though, with the over $17 billion virtual goods economy.
Enjin Wallet
Enjin also boasts an industry leading wallet. Their mobile wallet app which is available on both IOS and Android, has advanced features such as Dapp Browser, QR code airdrops and Cryptocurrency Exchanges.
The wallet supports a wide range of cryptocurrencies, these include Bitcoin (BTC), Ethereum (ETH), Binance Chain, Litecoin, & Ethereum-based tokens under the ERC20, or ERC1155 standards.
The security of a wallet is paramount when choosing a wallet and it would seem that Enjin ticks a lot of the boxes when keeping your funds secure. The wallet has two-layer encryption, secure keyboard and fully security audited. For Samsung users, your security is ensured even more as due to their partnership Enjin is also linked to the Sansung Blockchain keystore support, meaning private key protection under Samsung's military-grade security Knox.
Hopefully, now you have a greater understanding of the Enjin team and what they do in the blockchain space. The company has its fingers in many pies and the biggest potential venture has to be the potential partnerships with Samsung. Watch this space for more Enjin news:

Latest Enjin News
Microsoft has teamed up with Enjin to release crypto rewards for their customers. Using Ethereum as its base, the new Azure Heroes tokenized incentives will be available in certain European nations. The new saw Enjin Coin's price skyrocket up 37.5%.
Blockchain venture group has invested in Enjin games. The company said that they were the first equity investor in the gaming tech firm,
Reeward.io has started giving out ENJ a part of its reward basis. The company that sets up rewards for businesses has been using Enjin in its Reeward.io Bounty competition which sees $5,000 worth of Enjin products up for grab.
Enjin and Minecraft, the company behind games like World of Warcraft announced a partnership in May this year. "Enjincraft" is said to be the world's first blockchain-powered Minecraft server and Enjin believes it can be "potentially transformative," for the industry.
Enjin added Binance coin (BNB) to their list of tokens supported by their wallets in May 2019. Binance coin joins a list of other major tokens. Enjin wallet users can "monitor and manage infinite Binance Chain addresses" as well as "place orders to Binance DEX's on-chain order books—without leaving the Enjin Wallet's secure interface."
Enjin and Changelly, a cryptocurrency exchange have partnered up for a blockchain-powered explorer that verifies transactions. The explorer will be powered by EnjinX. The duo is also continuing their work to create "Major Tom," a new Ethereum blockchain collectible that will be playable in 22 Enjin-powered games.
Enjin has partnered up with Microsoft to create non-fungible "Badger" collectable tokens. These tokens will be used by Microsoft to reward its developer community for their contributions to Microsoft's blockchain-based cloud platform, Azure.
Enjin (ENJ) price prediction 2020
Things are certainly looking up for Enjin. In early December 2019, prices shot up from around USD$0.06 to over USD$0.10 in a matter of days. Since then, prices have held steadily over USD$0.08 with no intention of coming back down.
What is promising about Enjin is that they are continuing to develop, and have made huge partnership announcements in the past, such as with Samsung and Microsoft. These announcements are usually followed by a huge surge in price, like in early 2019 with the Samsung announcement, prices shot to USD $0.20. So with Enjin continuing to develop, we can expect this pattern to replicate itself in the future.
We see general positivity for 2020 from various sources such as:
Update: The article was updated on 13/4/2020 to include the wallet review.