Binance has seen lots of praise from all members for its fantastic 2019 so far. One such voice that has added themselves to the congratulatory talk is Tron's Justin Sun, who gave props to Binance as their coin reached an all-time high in terms of price this last week.

In a tweet on April 20th, Sun sent his best wishes and praise to both Binance and their leader, Changpeng Zhao, pointing out Binance token's (BNB) rise to surpass its previous high point. He said: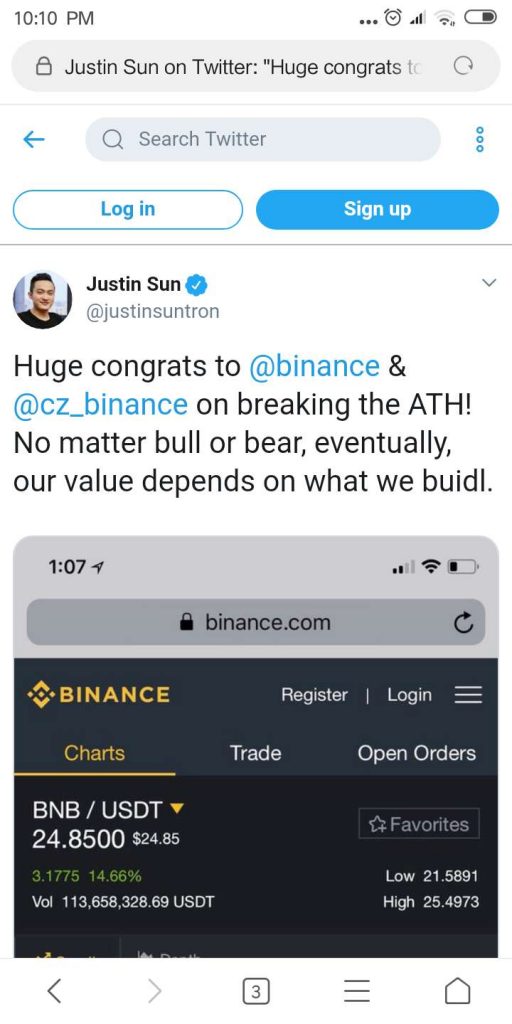 Some respondents to his tweet suggested that by Christmas Eve, BNB will have clocked $100 in market value per coin. Interestingly, Binance CEO Zhao responded by saying he would bookmark that prediction.

According to reports, BNB tokens on the Ethereum blockchain will be migrated to the Binance Chain and the public launch of Binance DEX will commence today. Binance has recently added Mithril to its upcoming platform, Binance Chain, with Red Pulse Phoenix and Atomic Wallet following suit.

Enjin is also rumored to be interested in joining Binance Chain. The tokens were previously hosted on the Ethereum blockchain, and the journey has prompted speculation that Binance Chain could provide fierce competition for Ethereum.

Sun, with his one million followers, has a huge audience and a company, much like CZ, who is thriving against the odds during this bearish market. Tron has been making similar moves to Binance, with partnerships with Tether afoot as well as acquiring BitTorrent and the journey to MainNet.
We will have to wait and see if this brotherly love continues. Both CZ and Sun aren't adverse to the odd war of words or Twitter spats. Sun is famously beefing with Ethereum founder, Vitalik Buterin and CZ has also had issues with Bitcoin SV' Craig Wright.