The rise of blockchain-based games has been unprecedented in the past few years. They have allowed users to earn rewards just by playing on the platform, while also being introduced to the world of cryptocurrencies. Splinterlands is one of the fastest-growing blockchain games in the market today.
Splinterlands is a blockchain game that utilizes different crypto mechanics, such as staking, governance, and many others. It also offers multiple avenues for users to make gains from the platform beyond just merely playing, unlike other gaming platforms. But how does it really work?
What is Splinterlands?
Splinterlands is a blockchain-based, collectible card game that allows users to play and earn rewards based on certain in-game achievements, such as winning skill-based matches and player-versus-player game modes.
The trading cards owned by the players in the game are supported by non-fungible token (NFT) technology, making each of them unique. Other in-game assets that can be bought in Splinterland are potions, dice, lands, and customized skins. 
In-game items from Splinterlands can be purchased and traded in the game's marketplace or rented to other players. The collectible cards in-game are also listed on NFT platforms such as OpenSea, Monster Market, and others.
Splinterlands had been considered as one of the most active NFT-based games in the space due to its continuous growth since it was launched. Recently, it has been reported that the platform has attracted more than 100,000 players. One of its biggest drivers was the roll-out of the rental system where players did not have to shell out funds in order to begin playing the game.
Dark Energy Crystals (DEC)
Splinterlands has its own game economy token called the Dark Energy Crystals (DEC). These are the reward tokens given to players whenever they win tournaments or ranked battles, or finish in-game quests.

How to Play?
There are seven (7) factions that users have to choose from: water, fire, earth, death, light, dragon, and neutral.
Then, the user will be asked to choose which card to play based on the factions in-game. However, there is a mana limit for players, which also limits the games that they can join each day.
The matchmaking system links the player to an opponent on a similar bracket. The attributes of each card can be improved with customizable skins or potions as well. However, unlike other games, Splinterlands always gives players a chance to win rewards through missions and other in-game activities.
To play Splinterlands, you will just need to register for an account on the platform and prepare a Web3-based wallet, such as Metamask. Then, once you've already created your account, you can activate it by buying a Summoner's Spellbook for $10 only. If you wish to just try the game for free, however, you can decide later on and not purchase the Spellbook yet.
If you haven't purchased a Spellbook, you cannot earn in-game rewards, participate in tournaments, trade in the market, and make other in-game transactions.
Ranked Battles
Staking can also be done by delegating your tokens to a player. This lets the player and the staker earn rewards based on the in-game performance of the player. They can also choose to stake their SPS on their own selves.
Additionally, the players can limit the stakers on their performance only to guild members or a select list of accounts. They can also remove or add stakers at any given time should they wish to do so.
Ranked battles reward winners with a certain number of Dark Energy Crystals (DEC). These work similarly to Smooth Love Potions (SLP) in Axie Infinity, which players can convert to other cryptocurrencies. The rewards are based on multiple factors, such as the ranked ladder rating of the player, their Energy Capture Rate (ECR), and other in-game modifiers such as gold cards, win streak, and others.
SPS Token
Splintershards (SPS) is the platform's native, governance tokens. These are integrated as well into the game mechanics to give the players the ability to vote on important protocol decisions and parameters. This concept is supported by the game's decentralized autonomous organization (DAO), granting the players a share of the ownership of the game.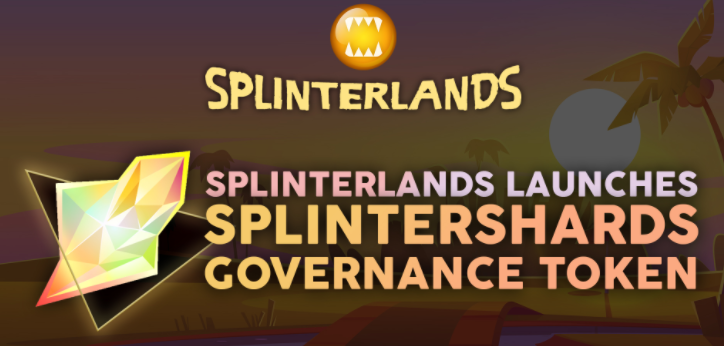 SPS tokens will be based on the Binance Smart Chain (BSC) and will have a total supply of 3 million tokens. 400 million of these tokens will be allocated for player and collector rewards which can be earned by user participation in in-game battles, guild fights, tournaments, and others.
Decentralized Autonomous Organization
The DAO for Splintershards will be governed by smart contracts based on the BSC network. This is to ease the gas fees required from users to perform transactions on the network, also enabling more people to participate in the platform's governance functions. Soon, staking SPS will also be enabled for users. This will allow them to earn more SPS tokens in the form of rewards.
The DAO will also be in charge of the management of the SPS token, controlling all aspects of the token. Changes to the functions of smart contracts associated with the SPS token can be voted upon by stakers of the token.
Oracles will be used to ensure the proper and accurate link of in-game data and the smart contracts for governance. Interactions and in-game activities within Splinterlands which are happening on top of the Hive blockchain and the attributes of the SPS tokens on top of the BSC blockchain will be managed by oracles.
The DAO will also have the ability to select which oracle to use for the platform, taking charge of feeding in-game information relevant to the SPS smart contracts and vice-versa. Oracles are also going to receive rewards for their service on the network.
Staking
SPS tokens can be staked in order to earn rewards in the form of the same tokens. These can either be used to participate in the game's governance function or avail of special offers, bonuses, and promotions exclusive to SPS holders.
Keep in mind, however, that if an SPS token is already locked, they cannot be moved or sold to exchanges. There is a minimum unstaking period of four weeks for SPS tokens. When unstaking, 25% of the total amount of tokens will be returned to liquid SPS tokens. This will repeat by the end of each four weeks until the unstaking is finished.
If you stake on a BSC wallet address, you will also be able to continue participating in the platform's DAO. If you stake via Splinterlands, you will only be given the ability to vote on governance functions related to the game, excluding the DAO. But both staking avenues promise SPS rewards.
Conclusion
Splinterlands is one of the most promising blockchain-based games with huge upside potential, given its rising popularity and growing user base. Beyond play-to-earn facilities, it features sought-after DeFi technologies, such as staking and governance. This makes it a potentially profitable platform even for those who don't have the time to focus and play the game.
Given the attention shifting to blockchain-based games these days, Splinterlands can look to be a good alternative for those who feel that they've been late to the party with Axie Infinity and My DeFi Pet. Additionally, the game is fairly easy to play and still has a lot of room for more users. Splinterlands is definitely worth a try.