AXIA is a blockchain platform that supports an asset-based token governed by smart contracts to solve fiat problems and improve current cryptocurrency models.
The trend of decentralization continues in the blockchain space, and with it comes different projects that offer multiple breakthroughs in the way we used to perform our financial transactions. Axia is a project that seeks to make a name in the space today, offering a reliable and secure medium of exchange, a strong use case, and a good store of value proposition.
What is the AXIA?
Axia is a decentralized blockchain platform supporting an asset-based token governed by smart contracts. The goal of the network is to enable an ecosystem of businesses globally, help them scale, and provide solutions to the problems of the fiat system while improving current cryptocurrency models.
Axia aims to facilitate a secure and fast global exchange without much cost while also giving its users the opportunity to make quality investments by providing an alternative store of value. The platform also supports the use of applications that can perform financial transactions and more.
Smart Contract Support
One feature of the Axia is its support for smart contracts. These are programmable codes that perform functions independently based on the data that is given and the parameters set for it.
This was put in place in order to support autonomous applications that require no third-party involvement but also to completely decentralize the whole network. There are some features enabled by this attribute, such as Axia's data democratization, tokenization, marketplace, and other financial projects.
Axia Ecosystem
The Axia ecosystem is a network of applications found within the protocol which complement and interact with each other. These use cases are accessible to businesses and organizations which provide benefits to community members and other people around the world.
Axia Wallet
Axia Wallet is a digital asset storage facility built on the Axia ecosystem. It is a free and secure custodial solution that also enables users to purchase, sell, send, receive, and make other Axia-based transactions. This can be synced with other applications on the ecosystem as well.
Axia Secure Key Storage
Axia Key Storage and Token Custody service enable the linkage of hot and cold wallets in the platform. This is meant to enable top-grade data encryption which is secure from potential system attacks that could be targeted to user wallets.
A feature enabled by this application is the account creation mechanism that ties a user's public and private keys to a chosen email address. This way, users who lost their keys can recover access to their funds through other credentials they have provided on the platform.
Axia Capital Bank
Axia Capital Bank offers a decentralized portal for financial services on the network. It also provides an option for users to store their assets through its free cold storage function. Axia users who choose to avail of that feature can still be in absolute control of their assets and in full management of their holdings.
Payment functions are also accessible via the Capital Bank. And beyond that, it also offers incentives to its users through partner brands worldwide. It also offers a competitive interest rate for depositors, giving them an annual compounding interest of 12% which is paid out daily.
Axia Tokenization Platform
Axia Tokenization Platform enables users to conveniently tokenize, fractionalize, and monetize, any asset that they wish to. This can include real estate, businesses, avatars, gold, and almost anything that they wish to digitize.
The platform also supports an e-commerce function that allows users to participate in seamless and fast peer-to-peer transfers and exchanges. In addition to that, transactions on the tokenization platform also accrue Axia coins.
AXelerator
AXelerator is one of the biggest use cases of the project, providing investment and incubation opportunities for entrepreneurs and startups. The goal of the project is to enable a financing platform for early and mid-stage projects.
It also supports a digital marketplace accessible to everyone where they can also make investments on start-ups and other companies. To ensure that only quality projects make it to the marketplace, Axia follows a rigorous vetting process.
There are many other use cases for the project as enabled by its ecosystem. Others include applications that support its non-fungible token (NFT) marketplace, free messaging and meeting platforms, video streaming, social networking, internet search engine, encrypted emailing, and many more. All of these work with each other in order to provide the best experience for its users.
AXC Token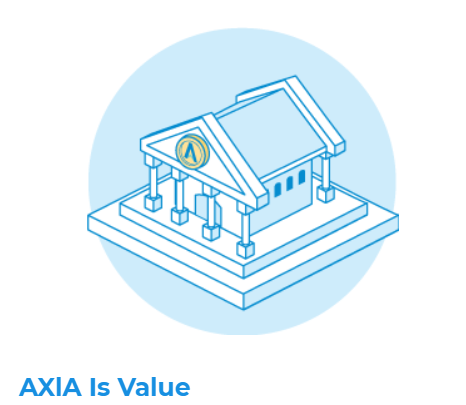 Axia Coin (AXC) is the native token for the Axia economy. It was designed to support value creation for its holders. It follows a hyper-deflationary tokenomic model complemented by asset-supporting structures that reduce the risk of volatility on the coin. This way, the token becomes a reliable store of value as compared with other digital assets.
AXC token can be used to perform transactions on the platform's global marketplace. It can also be used as a medium of exchange between network participants. And since the platform is designed to be community-governed, AXC token is also used by participants to represent their stake on the network and fulfill voting functions.
As a medium of transfer, the goal of the developers of the Axia economy is to enable instantaneous movement of assets without compromising transparency and reliability.
Deflationary tokenomics
AXC's tokenomics is designed to be deflationary in order to support its value in the long term. Because it is deflationary, the supply of all AXC tokens in circulation is bound to decrease over time. This is done by way of burning, where a portion of AXC tokens in supply is taken away from the market to introduce scarcity.
The Axia Reserve complements this function even further, enabling underlying assets to back the value of the token. This reserve is composed of a diversified basket of publicly reported assets and the equivalent value emanating from the utility of the whole Axia ecosystem.
Because of the aforementioned function, the greater the network activity is in Axia, the bigger the value of its reserve becomes. Meanwhile, there is also a feature on the platform called the Axia Transaction Link (ATL). The purpose of the ATL is to incentivize users to make network contributions by way of performing their transactions on the platform.
These are all the systems that enable Axia to maintain its value over time, as opposed to other cryptocurrencies that have no inherent burning mechanisms in place. As you can see with other projects, tokens that do not have the same system usually suffer from huge price drops due to supply surplus.
Conclusion
There are a lot of cryptocurrencies in the space today that offer different use cases, such as Cardano (ADA), Polkadot (DOT), and Ethereum (ETH), among others. Then comes Axia, probably one of the new and promising competitors in the industry as it offers a diverse and well-connected ecosystem for its users. With asset-backed and deflationary token mechanics, it also somehow distinguishes itself from most cryptocurrencies out there.
How the future will play out for Axia is still uncertain, as some bigger projects continue to take up a lot of space in the market of cryptocurrencies. But regardless, the use cases of the project and its tokenomics look solid. Given that, there is still a lot of upside for the project. The question we can't yet answer, however, is how Axia will differentiate itself amongst similar projects in the market.