Decentralized finance (DeFi) is causing a paradigm shift in the fintech world, and DeFi Money Market (DMM) is one of its best contributors.
Blockchain and cryptocurrency are revolutionary technologies that have paved the way for several utilities to emerge. DeFi is one of those use cases. And just as human beings continue to evolve, DeFi has also evolved tremendously.
A few years ago it was impossible for cryptocurrency users to generate income by tokenizing physical goods on the crypto market.
The evolution of decentralized finance has also paved the way for some emerging innovations to fly. One of such innovations is DeFi Money Market (DMM), where users can enjoy some equity on physical goods. Goods like real estate, cars, art collections, aircraft, precious stones, etc. can be used to generate stable interests.
Background
The DMM foundation was founded by visionaries as a way to bridge the gap between DeFi and real world assets.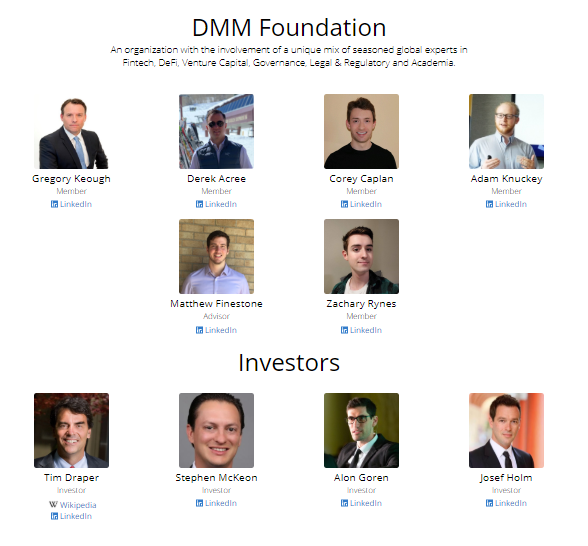 Furthermore, the company is backed by some of the most remarkable investors like Tim Draper, Stephen McKeon, Alon Goren, and Josef Holm. DMM has also partnered with some notable companies like Huobi, Coinbase, Portis, Draper Venture Network, Chainlink, etc.
What is DeFi Money Market (DMM)?
DMM is an Ethereum blockchain-based ecosystem that was created to enable users generate interests from real world assets. The DMM platform operates with two tokens; the governance token which is DMG and a stablecoin called mTokens. Users of the platform, as well as owners of ETH, DAI or USDC can enjoy interest returns of 6.25% annually.

The DMM platform is over-collateralized so the income generated is greater than the interest owed. The crypto market is volatile by default, which can affect the interest rates on loans taken. However, users will find stability when they invest in DMM assets, because it is linked to real-world assets.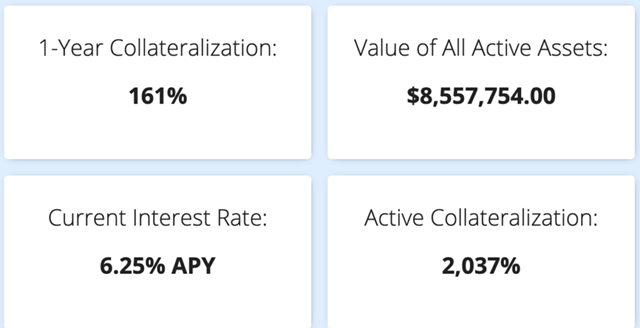 The DMM tokens are stable and transferable. Furthermore, users are not required to pay ETH gas fees for transactions. Yet the DMM tokens are built on the ERC-20 standard. And this enables users to transact with DMM on Ethereum wallets.
The DMM protocol provides investors with a system of hedging with their locked funds. The funds will be made available to borrowers who would put in collateral in the form of real-world assets. There will be interests generated, which would enable investors to earn profits.
Transparency is another excellent feature of the DMM protocol as it allows users to see just how well the assets are performing. Should there be any need for an audit; users can carry out different analyses about the performance of the asset(s).
DMM Protocol Components
The DMM protocol has been upgraded recently in order to enhance efficiency by adding some new features to its system:
Oracle
An oracle is a decentralized network that collates data from external data sources and makes them securely available on blockchains. The partnership between the DMM foundation and Chainlink allows real-world information to be streamed to the DMM protocol.
DeFi Money Market Wrapper (DMMW)
This is a smart contract protocol that adds an extra security layer to transactions. It also makes it possible to use any Ethereum token for the generation of income.
DeFi Money Market Account (DMMA)
This is a native asset added to the DMM framework that facilitates earning interests on Ethereum tokens. It is backed by real-world assets and is also available on the blockchain as its digital counterpart.
DeFi Money Market Ecosystem (DMME)
This is a decentralized Ethereum-based protocol that makes it possible for users to create and use the DMMA.
The Main Tokens (mTokens and DMG)
mTokens are used to tokenize physical assets. They serve as a representation of DMM's stake in income-generating liens worth $8.5 million. When users deposit USDC, DAI, or ETH on the DMM platform, the interest generated is in mTokens (mUSDC, mDAI, mETH). With the mTokens, the investors get their tokens back with the accrued interest.
DMG is a token for governance that gives holders the right to vote in the DMM ecosystem. It also gives the DMG token holders access to the 5.5% excess revenue generated by the DMM system.
Disruptions by the DeFi Money Making Ecosystem (DMME)
The DMME is looking to disrupt the finance sector, by implementing a superior interest yielding protocol. This protocol will use the $17 trillion interest-producing money from real-world assets that is currently generating negative to zero interests.
The ecosystem will create transparent, robust, and secure bridge between DeFi and interest generating physical assets.
How to make money with DMM
Like with every DeFI platform, generating yield incomes comes at a price. There is a risk involved when trying to monetize the DMM platform. Users who decide to participate believe that the reward is higher than the risk.
If you feel the same way, then by all means you are free to follow this guide. But do so at your own risk.
Investors looking to earn from interests on the DMM platform can do so with ease, and here are the steps:
Open app.DeFimoneymarket.com in your browser.
It is assumed that you already have ETH, DAI, or USDC tokens.
If you have the aforementioned tokens, click on "Connect Wallet". If not, click "Buy Crypto" to fund your wallet.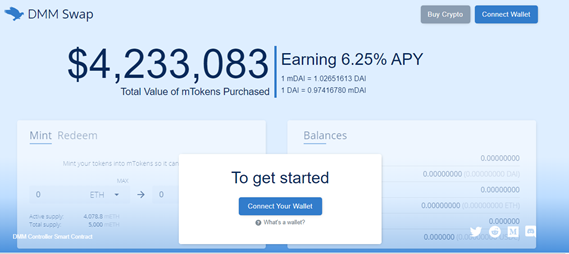 When you click on "Connect Wallet", you will get a popup with different wallets to choose from.
Pick the appropriate wallet.
Mint the amount you intend to deposit, so the system can give you mTokens in return.
You can monitor your balances on the app.DeFimoneymarket.com platform.
The funds deposited are used for the acquisition of real-world assets that yield income.
When interests are paid out by the assets, you can view them on-chain.
On the app.DeFimoneymarket.com platform, click on the "Redeem" button beside the "Mint" button to redeem your profits.
You will get your deposited amount, plus the accrued interest.
Conclusion
The possibility of tokenizing physical assets is a huge step at creating growth for the crypto community and DeFi. With a lot of capital getting pumped in, several other DeFi protocols can successfully spring up.
Bridging the gap between the world of crypto and legacy financial systems will create a value system that is transparent. Not to mention the yields are quite high. And DeFi has already done that.
All they need to do is improve and acquire more physical assets.
Furthermore, the revenue and governance system that the DMG token provides is designed as an incentivizing tool. Holders of the DMG token are encouraged to contribute to the ecosystem by adding new assets, and thus bring growth.