Imagine the possibilities of reinventing money. One that is powered by blockchain and crypto-based solutions. That is what Ampleforth hopes to achieve within and beyond the crypto community.
Since the inception of decentralized finance (DeFi), various notable projects have spawned, giving life to a new sector in the cryptosphere. At the moment, investors and crypto traders alike are quite stoked with DeFi and liquidity mining.
We have witnessed several protocols like Maker, Aave, and Compound attracting hundreds of thousands of users, enabling the DeFi ecosystem to proliferate far and wide.
These revolutionary DeFi protocols provide users with investment options that they won't normally be able to access with traditional loan systems. In DeFi systems, users are offered flash loans (no collaterals required), stablecoins that are collateralized, and interest rates that are subject to supply-demand functions.
One of the most promising projects that has turned a lot of heads lately is Ampleforth.
Background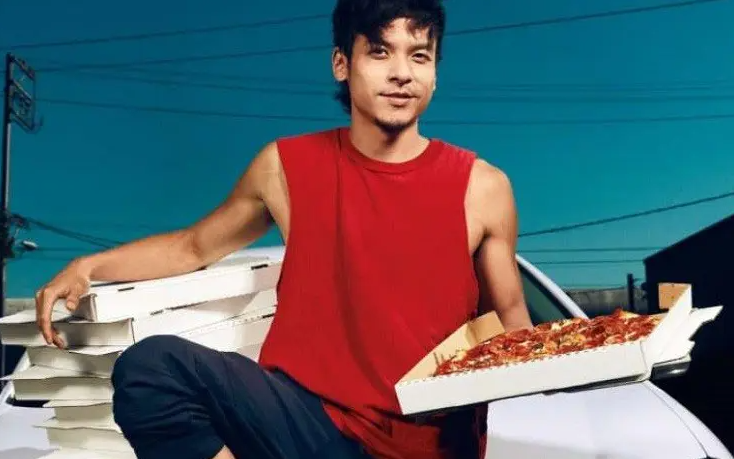 The former CEO of Pythagoras Pizza, Evan Kuo thought of a way he could reinvent money and create something phenomenal. He started by tokenizing his pizzeria so everyone involved with the business earned tokens for completing different tasks. The tokens represented shares in the pizza company, as well as its profits.
The tokenization of Pythagoras Pizza attracted several investors and helped Kuo meet notable people within the crypto community. Through a team of brilliant academics, engineers, enthusiasts, and investors, the Ampleforth foundation was established.
What is Ampleforth (AMPL)?
The centralized finance system run by traditional finance institutions had a lot of challenges and shortcomings. The loopholes needed a solution, and decentralized finance came into being. However, DeFi is not as perfect as it is expected to be.

Ampleforth's platform was created to have money reinvented while correcting the failures of Cefi and improving upon existing DeFi protocols.
Unlike in other DeFi platforms, users are not motivated to use the Ampleforth blockchain for liquidity mining purposes. However it's token, AMPL, is an attractive asset for yield farming due to its stable value. The value of each token is pegged to the 2019 dollar only, meaning it is no longer subject to U.S. inflation.
Furthermore, an equilibrium range between $0.96 and $1.06 is hardcoded into the smart contract in order for the token to keep its stability.
This provides an opportunity for users of the platform to make money through arbitrage. Depending on whether the price of AMPL moves up or down the equilibrium range, arbitrageurs can either sell excess AMPL to take profits or increase their holdings when the price drops.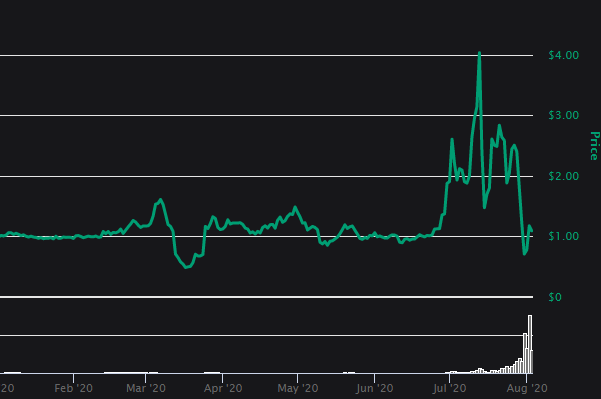 Looking at the AMPL chart, traders could easily spot the enormous arbitrage opportunities in the Ampleforth system.
The Ampleforth System
This Ethereum blockchain-based ecosystem has some unique features like its adaptability in supply. Ampleforth was designed to alter the supply in circulation, based on the forces of demand. This means that when there is an increase in the demand of Ampleforth, the supply will also experience increase. When there is a drop in the demand for Ampleforth, it also affects the supply.
There is the tendency for Ampleforth to get confused for a stablecoin, but that is not the case. Ampleforth has no fiat nor crypto backing it, which makes it different from a standard stablecoin.
The Ampleforth protocol boasts autonomy; however, the system is not as decentralized as one would expect. It turns out that the team holds the power to pause any changes in the supply of AMPL, as well as freeze all user funds.

The foundation hasn't made any known remarks regarding this and many users might not even be aware that the team still holds the key to the system.
Ampleforth Economics
At some point in history, the U.S. dollar was tied to the value of gold. This monetary system was known as the gold standard, and in 1971, the U.S. made a switch away from the gold standard. The U.S. had to make that move because they could not afford to deal with deflation.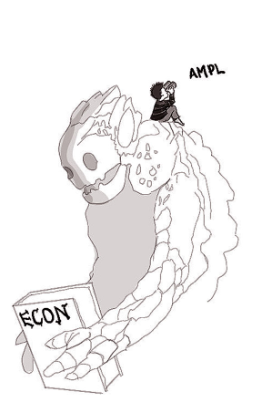 With fiat currency, shortcomings like fraud and supply adjustment could not be avoided. This is where the Ampleforth protocol comes in with a solution that autonomously adjusts supply based on demand.
The Ampleforth protocol is designed to get information about current exchange-rates from reliable Chainlink oracles. Holders of the Ampleforth units are facilitated by proportionally decreasing or increasing the number of tokens held by each investor.
For traders within the ecosystem, the changes in quantity and exchange-rate mean there are changes in Ampleforth's market cap. Short-term traders, especially those that employ algorithmic or automated solutions, will be able to discover new trading strategies.
Interestingly, the behavior of a trader is expected to create a movement system that is step-function-like. This is based on their response to the incentives provided by the protocol, with lesser correlation to existing digital assets. With this operational framework in place, Ampleforth is suited for traders and investors looking for long, medium, or near term utilities.
Use Cases
At the center of AMPL's utility is the creation of an exchange medium. Ampleforth has the ability to scale supply in order to match with the demands of users in their billions. Furthermore, supply can also be contracted if it has only about 2000 users being served.
The elastic supply of AMPL's pattern makes it a good asset to facilitate the building of a digital ecosystem. This is the reason why it was created with this type of framework. It is ideal to be used as collateral for DeFi systems. It has a countercyclical feature that makes it a profitable addition to a diversified digital asset portfolio.
Ampleforth Geyser
Incentivization is an effective way to encourage investors and traders to get participate in a system. In this case, on-chain liquidity is incentivized with the aid of Ampleforth's smart faucet called "Geyser". Whenever liquidity is provided on the Uniswap platform, the liquidity provider will receive AMPL tokens as rewards.
How to use Ampleforth Geyser
If you are looking to earn by providing liquidity, follow these steps: open your browser and visit the Ampleforth Geyser portal.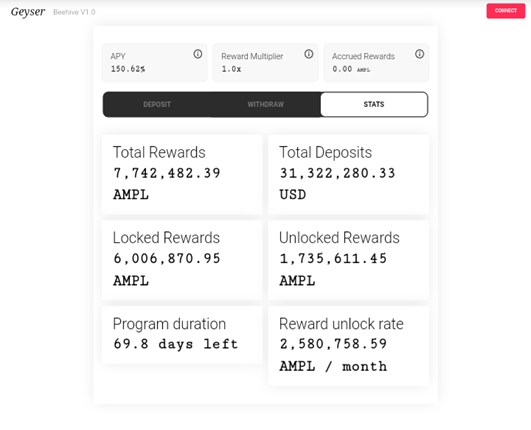 Connect your Ethereum wallet using the "Connect" button. (if you don't have an Ethereum wallet, you should create one)
Depending on the operation you want to perform, there are three buttons: Deposit, Withdraw and Stats.
To deposit, connect your wallet, enter the amount and tap the "Deposit" button to execute.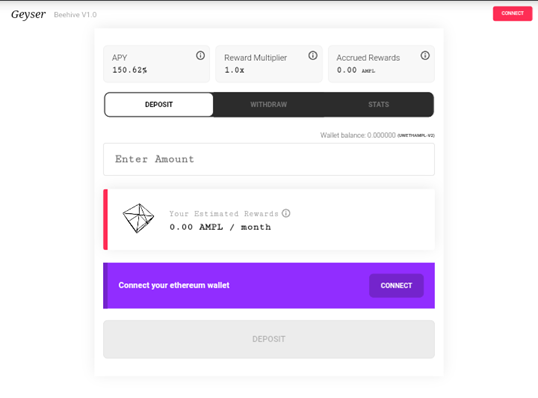 To withdraw, ensure that your Ethereum wallet is connected. It will withdraw your deposits and profits into your wallet.
Conclusion
To some considerable extent, Ampleforth has been able to redesign money. However, they have not been able to influence the mainstream potential users. They have what it takes to become a sought-after protocol.
Furthermore, they are making significant traction in the DeFi space and will likely continue to grow.
Interestingly, Geyser has seen an estimated 37 million AMPL being deposited, and that is a good indicator of its growth and potential. Things are looking up for the Ampleforth protocol, but they need to do more to stay relevant in the crypto community.
Users looking to get AMPL tokens can purchase them from various crypto exchanges like KuCoin, Uniswap, Bitfinex, and many more.