VeChain Thor: What is it about?
VeChain Thor is a blockchain-as-a-Service (BaaS) featuring a dual token.
VeChain Thor was built on the smart contract network with an idea to serving enterprise users. Originally launched on June 30, 2018, the VeChain centers on supply chain channeled towards the delivery of Internet of Things Solution (IoTs). VET is VeChain Thor's trademark cryptocurrency and it employs VTHO as its tokenized transactions.
NFC Chips, RFID tracker, and QR Codes are used by VeChain to put IoT on the blockchain using a proprietary smart chip. Supply chain comprises of all purchases made, from clothes to food, drugs, gas or luxury items.
VeChain Foundation is a non-profit organization which is based in Singapore and maintains VeChain Thor blockchain. Established in 2017, VeChain Thor implements a checked and balanced system for network governance.
The Performance of VeChain (VET) and VeThor Token (VTHO) in the Cryptocurrency Market
Before we examine the concept of VeChain, let's briefly check how it compares in the crypto market.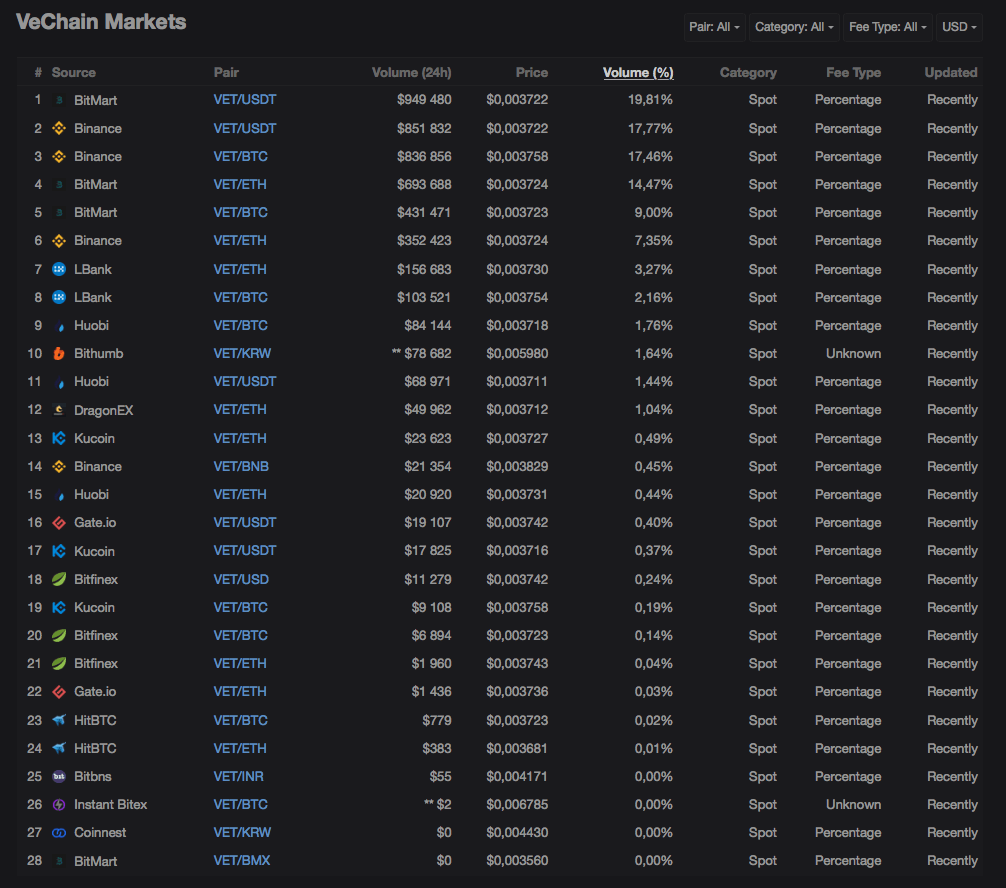 • 22nd January 2018 – VET Peak Price of $9.55 on the with an ERC-20 token on Ethereum blockchain.
• 9th November 2018 – A circulating supply of 55,454,734,800 VET from the circulating 86,712,634,466 with no cap on the VTHO supply.
• 1st August 2018 – VTHO reached a peak price of $0.040216
• 17th August – 17th September 2018 – VeChain Thor ICO raising almost $20 million of Ethereum
• 25th May 2018 – Launching of the first VeChain Thor Mainnet ICO called Plait – a VeChain based gaming reward system
Some of the cryptocurrency markets exchanging VET are BtMart, LBank, Binance, Huobi, Kucoin, DragonEX, Gat.io and Bitfinex. Also, USD as a fiat currency support VET with a daily turnover of approximately $13 million VET value.
The storage facility for VET and VTHO is VeChainThor Wallet as well as Nano hardware wallet. There will be no accumulation of VTHO if VET is stored in an exchange unless stated otherwise.
Building VeChain Supply Blockchain
The root of VeChain is a team with a strong pedigree in enterprise supply chain management.
Manufacturers such as Clorox and Cintas as well as distributors like United States Postal Services (USPS) and FedEx along with Retailers including Wal-Mart and Best Buy are some of the organizations that use the digital ledger.
With a 98% fulfillment rate achieved with the current technologies, VeChain through NFC, QR and RFID ensure that products and supplies are perfectly tracked, thus taking account of every process.
Consumers can track the quality of the products they use, helping to create stronger trust in terms of logistics. VeChain Identity (VID) will grant consumers that access.
Mining SHA256 hash function helps in producing VIDs which are subsequently attached to the NFC tag, QR code or RFID tag to generate IoT, that tracks all the supply chain.
A smart-contract network is the second blockchain layer with legal ownership and possession of both digital and physical assets. A public or private key value transfer system of cryptocurrency can then be used to transfer these assets from end to end.
The approach used by VeChain network mining node enables each organization and business to run and maintain personal nodes, thus creating an exclusive private ecosystem. Although individuals from the public do not have the access to mine VET, they can make a purchase and stake VTHO using VeChain Thor's Proof-of-Stake system.
Extending into All Service Enterprise Operations
Running of enterprises and government operations on proprietary software using a legacy operating system has been around for a while. However, upgrading an enterprise system is a rigorous task. They often include several million contracts with multi-year contracts as a result of their present third-party vendors. Sometimes, the development cycle may take over two years to get all the proper approval processes as each program was exclusively built for a specific platform.
VeChain Thor has tested its concepts with many of its present partners like Hyperledger, PwC, Renault, Microsoft, Babyghost, Healthcare Co Ltd, etc.
The operation led to the discovery that the team does not serve the entire supply chain until they incorporated sectors like management, accounting, sales and marketing. Also, they realized that the C-suit needs to access VID data. In addition, accepting and presentation of data should be enabled by all systems.
VeChain, in its resolve, has decided to include all other enterprise sectors and not only the supply chain. This tends to bring future growth, especially when more partnerships are secured.
Recently, Japanese historic tea producer, Fiji MARUMO created the partnership with Vechain to enhance the traceability and authenticity of their products using NFC Chips, RFID tracker.