Convergence Finance has recently released its litepaper for their newly-launched, decentralized exchange for real world assets on the blockchain. The litepaper covers an introduction to the current digital asset landscape and its developments, technical solutions offered for the problems of today's digital asset market, and Convergence's protocol design.
Convergence Releases Litepaper and Telegram community
Included in the release of Converge Finance's litepaper is a link to their new Telegram channel. For users who want to keep themselves updated on the other releases of the platform, they can find the Telegram link here.
The litepaper covers the issues with today's traditional finance and security token market, mainly focusing on the complex legal barriers for issuers and the lack of liquidity in available exchanges. Then it tackles the emergence of decentralized finance (DeFi) and the technology it espouses. According to the team, the lack of real world exposure in DeFi is something that Convergence Finance will build upon.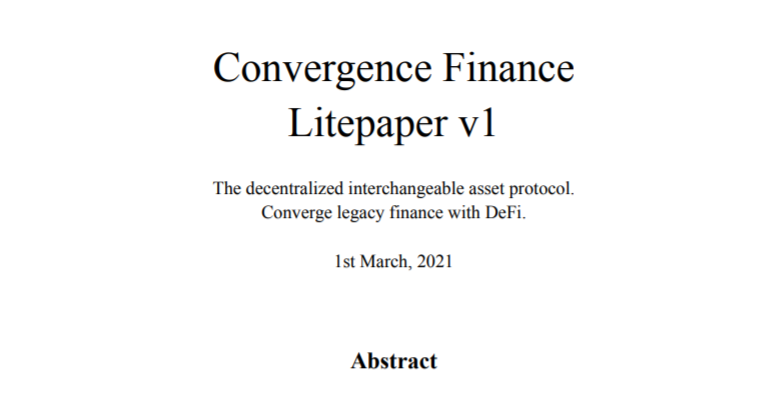 Convergence Finance is a DeFi project that aims to introduce liquidity to tokenized real world assets. By way of its token wrapping module, any real world asset can be created a blockchain counterpart, called Wrapped Security Tokens (WST), so that they can be traded in its own exchange.
The liquidity of the platform is facilitated by an automated market making (AMM) protocol supplied by liquidity pools, called "Convergence Pools." On the platform, users can make their own pools and launch WSTs to further support its trading feature. This is also another avenue for retail investors, fund managers, and other platform users, to invest in WSTs.
Since the platform is decentralized, it also implements a decentralized autonomous organization, the ConvergenceDAO, where CONV token holders, its native utility token, can vote on important protocol decisions and other network proposals.
According to the team behind the project, Convergence will be the first decentralized interchangeable asset protocol in the DeFi space today. It stands above similar real world asset tokenization projects by implementing advanced and automated trading and exchange concepts working behind most decentralized exchanges (DEX) in the market.
Convergence Successfully Raises $2 Million in Funding
Previous reports have covered that Convergence was able to secure $2 million in financing from its latest funding round. This round was led by Hashed, a prominent cryptocurrency and blockchain firm, and had the participation of companies like NGC Ventures, Genesis Block, Alameda Research, Kenetic Capital, CMS Group, Paul Veradittakit of Pantera Capital, DuckDAO, Divergence Ventures, and Liang Xin Jun of Fosun Group.
According to their release on the funding news, this will be used to finance the continuous development of the protocol's testnet and mainnet. Their next step is to launch their initial coin offering by the end of March. The company's vision is to achieve organic liquidity for real world assets and bring them into the whole DeFi supply chain.