China's Center for Information and Industry Development has issued its latest ranking of crypto projects. The report has seen some interesting developments, with the biggest surprise being Tron's inaugural ranking, seeing them near the top of the pile and Bitcoin seeing a rise too.

In its 10th update, the center ranked 35 different institutions. EOS ranked the highest in the nation, Tron came second with Ethereum coming in third place. In other notable mentions, BTC ranks 13th this month, up from the 15th place the previous month. BCH ranks 27th, a slight improvement from the 28th position in the previous ranking.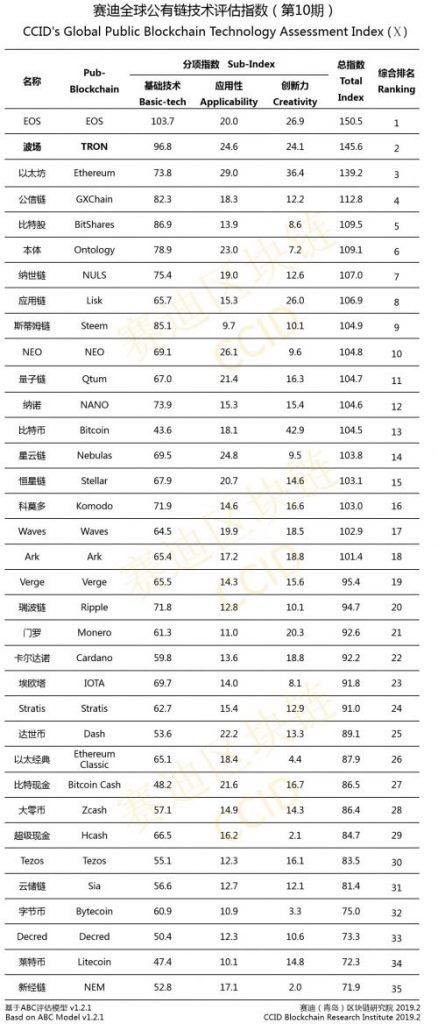 Tron is certainly the biggest benefactor from this ranking list, with the centre report describing them as a "low-level public chain with high throughput, high expansion and high reliability," adding that it is "compatible with the Ethereum smart contract."

The CCID ascesses using the three primary indicators: basic technology, applicability, and creativity. However, for the latest ranking, the weight of the creativity indicator of the total index has been increased.

In terms of the basic technology category, the top five public chains are EOS, Tron, Bitshares, Gxchain, and Nano. The top five projects for the applicability category are Ethereum, NEO, Nebulas, Tron, and Ontology. Finally, the top five in the creativity category which looks at innovation as well as the number of developers, code updates, and code impact, are Bitcoin, Ethereum, EOS, Lisk, and Tron.