Bitcoin stolen from the Bitfinex hack in 2016 is reportedly on the move, with 172.54 BTC ($1.37 million) sent from the hacker's wallets to an unknown address.
The information was released by a Twitter user, whale_alert, who is obsessed with monitoring large transactions. There were six transfers in total, and they began at 07:00 AM UTC on June 7. The tweets from @whale_alert read: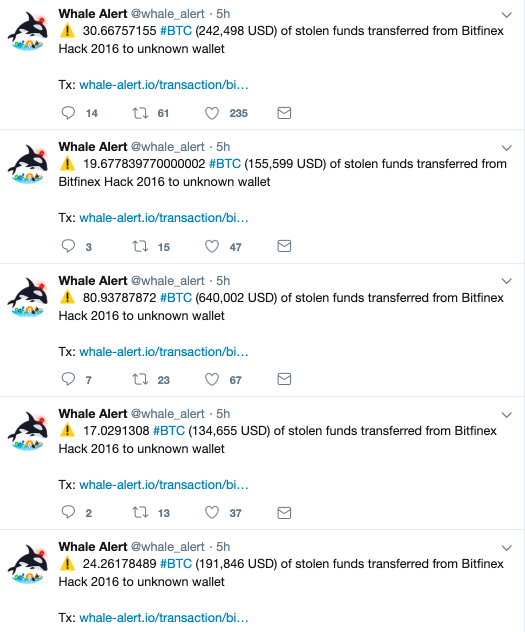 Is Bitfinex behind it?
A conspiracy on Twitter is currently doing the rounds, suggesting that Bitfinex is behind the transfer. Curious eyes are already focused on the Bitfinex white paper which outlined the framework for their new LEO token. The white paper appears to talk about such transactions. It read:
"[…] [Bitfinex] is working with industry leaders to create a procedure to offer the hacker the chance to safely and privately refund the majority of the stolen funds while keeping a percentage of them as a reward for collaborating in finally resolving this issue,"
Bitfinex has been quick to quash these rumors. The company's marketing director, Anneka Dew, told Hard fork that they were not responsible. In an email, Dew said:
"We are not involved, and the movement is not tied to the procedure outlined in the UNUS SED LEO white paper,"
Bitfinex hack 2016: what happened?
For context, Bitfinex was the victim of a substantial hack in 2016. The scam artists took 744,408 BTCs held on Bitfinex, which at the time were worth roughly $350 million, but is now worth around $5.9 billion.
Since then, authorities and Bitfinex have been scrambling to retrieve the lost funds. Law enforcement agencies were able to get back 22.66 BTCs in February, which were worth $104,000 at the time. However, currently, the majority of the funds are still missing.
At the time of writing, the transactions have ceased, but the crypto community is curious whether the funds will ever be recovered. Let us know your thoughts in the comments below.