In 1988, the Economist published a prediction about the victory of the "world currency" over the national fiat, but we did not meet the expectations from the articles, and on October 10, having ended, it did not give the crypto community a long-awaited surprise.
On October 10, 1988, The Economist published an article predicting the emergence of a global currency:
"In 30 years, Americans, Japanese, Europeans, residents of many wealthy and relatively poor countries may pay for their purchases with a single currency."
On the cover of the symbolic release of The Economist was depicted a phoenix holding a coin with values of 10 and 2018 over a flaming dollar. Many wondered whether by this time the market would be ready for the transition to a global currency, waiting for an unexpected turn of events.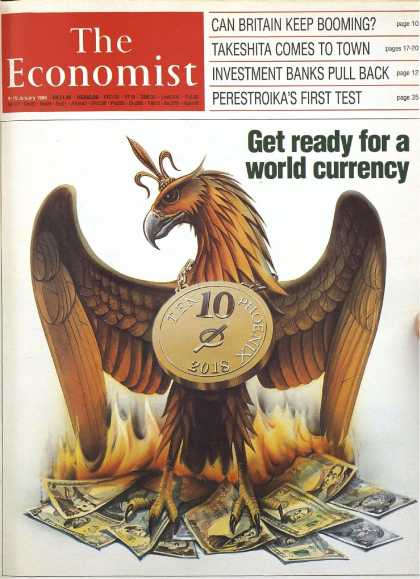 "All prices will not be in dollars, yen or German marks, but, say in phoenixes … Phoenix will be preferred by companies and buyers because it will be more convenient than today's national currencies, which will be only considered as the reason for the crises of the 20th century."
As shown by activity on the social network Twitter, users have been waiting for an unexpected turn of events all week. For example, the user @vietnguyen published a post:
The Rothschild's Economist magazine predicted a new world currency on January 9, 1988. Isn't cryptocurrency a globalist's 30 years idea for a global currency? Will the stock market crash or Bitcoin will take off on October 10 or November 11? @bensemchee @Timing_BITCOIN #BTC pic.twitter.com/8HWGlhjT5X

— Viet Nguyen (@vietnguyen) 6 октября 2018 г.
Did we get closer to this?
Is Bitcoin actually going to be the mentioned Pheonix World Currency or maybe the prediction was right, but the timing wasn't?