Velo Protocol is a decentralized platform that seeks to bring sweeping changes to the digital credit issuance space and enable borderless asset transfers.
For most digital currencies to receive widespread adoption today, they likely need to be connected to the centralized finance (CeFi) world. Unfortunately, the existing link between the two worlds has failed to spur enough confidence among CeFi diehards. Therefore, the emergence of decentralized finance (DeFi) provides reliable bridges between cryptocurrencies and the fiat-powered ecosystem.
Cross-border money transfer is one area that would benefit from a strong DeFi-CeFi connection. With earlier blockchain platforms such as Ethereum and Bitcoin suffering from scalability and slow transaction speeds, the Stellar blockchain brought near-instant money transfers across borders. Stellar is also powering a breed of new generation cross-border remittance-focused products such as Velo.
Background
Velo Protocol is developed by Velo Labs, which is led by Chatchaval Jiaravanon (chairman), Tridbodi Arunanondcha (vice-chairman), Suvicha Sudchai (chief product officer), and IIya Zusman (digital finance officer).
Jiaravanon is a serial investor and sits on the board of directors of Thailand's top telecommunication group, True Corporation. The project's vice chairman is an aggressive tech entrepreneur and chairman of Lightnet, a revolutionary clearing and settlement system. Sudchai is the managing director of a subsidiary of Siam Commercial Bank, Digital Ventures, and the head of innovation at Krungthai Bank.
On the other hand, Zusman has held different roles, including being the advisor to the BoD of Russian Direct Investment Fund and a former executive director at Goldman Sachs.
The platform has an active community spread across major social media platforms such as Twitter, Kakao, WeChat, and Telegram. For example, it has 14,475 Twitter followers and over 20,000 (cumulative) members on Telegram.
What is Velo Protocol?
Velo Protocol is a decentralized platform that seeks to bring sweeping changes to the digital credit issuance space and enable borderless asset transfers. At the heart of the network are smart contracts powered by the Stellar blockchain.
In general, the platform targets the DeFi scene with a special focus on credit and asset transfer. Interestingly, Velo Labs' decision to settle for the Stellar blockchain was a smart move. Why? Compared to other blockchain platforms, including the leading ones, Stellar beats them in several areas.
For instance, Stellar has a transaction confirmation time between 3 to 5 seconds, an average transaction cost of $0.01, and a transaction speed of over 3,000 transactions per second (tps). Bitcoin and Ethereum, as of today, do not even come close to this in any way. The Bitcoin blockchain, for instance, can take up to one hour to confirm a transaction, while Ethereum can take up to 15 minutes to reach transaction finality.
Ripple comes close, but its transaction speed is half that of Stellar at 1,500 tps.
Velo Tokens
Activities on the Velo system are powered by a native currency called VELO. VELO serves two purposes on the network. First, it's the gateway to the Velo network, and second, it acts as collateral when transferring value.
The process of receiving the native token is easy since it involves depositing fiat and getting an equivalent allocation of digital credits that translate to VELO. VELO's demand is hinged on the growth of the network.
For example, as more partners use the system, the demand for digital credits increases; hence, the value of Velo tokens rises.
The demand is already manifesting with the listing of VELO on major cryptocurrency exchanges such as Kucoin. On September 17, 2020, VELO was listed on the well-known exchange and paired with Tether (USDT).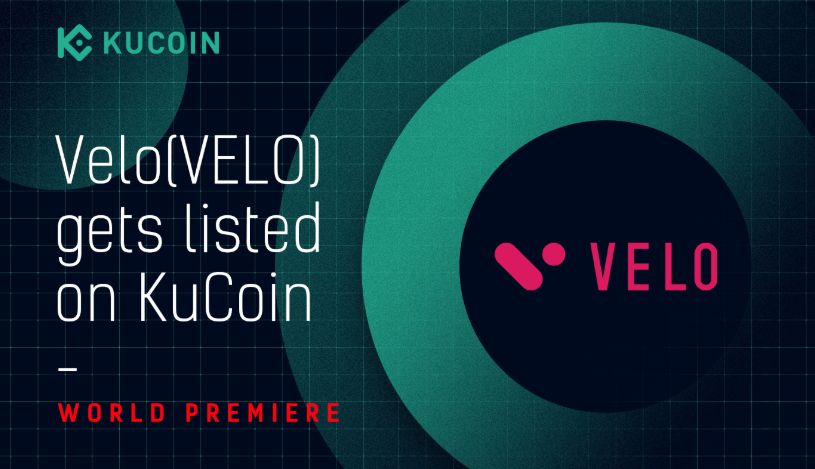 Where to Store VELO Coins
VELO can be stored safely using FOUR options.
Cold storage – Hardware wallets or what is referred to as cold storage is the most secure way to store VELO or any other digital currency. Currently, the platform's native token is supported by both Ledger and Trezor wallets.
StellarX wallet – Being a Stellar-based token, VELO is compatible with the StellarX wallet. The wallet is associated with the Stellar decentralized exchange and also enhances the safety of your VELO tokens.
Crypto exchanges – VELO can be stored on exchanges where it's already listed, (already live on Kucoin now).
Mobile wallets – Although desktop wallets are good, mobile wallets are extremely convenient, especially for crypto users who are always on the go. Velo Labs understands the importance of going mobile and is putting the final touches on Velocity, a mobile wallet to store VELO. Velocity will soon support Android and iOS-powered devices.
How Velo Works
The functioning of the network is divided into phases.
Phase 1
This is made up of the platform's early features, such as the digital credit issuance and the digital reserve system.
Digital Credit Issuance – Involves the exchange of VELO tokens with the network's digital credits. However, the exchange is only allowed for grilled business, which the platform calls Trusted Partners.
At the center of the credit issuance is a smart contract that holds VELO, and is connected to the Trusted Partner's fiat deposit and digital credit. This helps intertwine VELO, digital credit, and fiat deposits.
Note that Velo Labs partnered with Band Protocol, a decentralized oracle platform, to provide, among other things, reliable foreign exchange data.
Digital Reserve System (DRS) – This system handles everything to do with rules governing smart contracts involved with the single Collateral Pools (backs issued digital credit) and Reserve Pool (a pool of VELO coins held by Velo Foundation). Further development of the system is expected to introduce functionalities to control how Trusted Partners loan VELO coins.
Phase 2: Velo DEX and OTC
The second phase features a decentralized exchange (DEX) and an over-the-counter (OTC) option. Velo DEX and Velo OTC are geared towards attracting more liquidity in VELO tokens.
This is possible because the exchange will pair cryptocurrencies against the VELO token. Also, the exchange introduces liquidity providers in the ecosystem.
Phase 3 and 4: Decentralized Digital Credits Lending
Apart from powering a decentralized system to lend digital credits, the two phases also touch on the governance mechanism where VELO token holders will be involved in decision-making. Decentralized governance is a critical component of DeFiprotocols since it allows community involvement when making key decisions. In short, it ignites a community-driven project.
In addition, this phase introduces a reputation system and a fiat to digital on and off-ramp. A reputation system is meant to provide credit scoring tools that will help streamline the lending system.
A higher credit score gives Trusted Partners the ability to borrow VELO from Velo Labs. On the other hand, a fiat to digital asset on/off ramp is key to providing a fully decentralized settlement network.
The Velo Architecture
Behind the sparkling smooth platform is a robust system that interfaces Trusted Partners, Stellar, Velo, and the Smart Contract Chain. At the heart of all these components is EvryNet, an extension of the Stellar blockchain, and Warp, a bridge between the Smart Contract Chain and the Stellar network.
Trusted Partners can access the bridge using a web portal, an API, or a command-line tool. This adds versatility in how the platform can be accessed by different parties such as developers, businesses, and individuals.
Conclusion
The above discussion shows that the Velo network is a crucial link in driving DeFi adoption. With decentralized voting and vetted liquidity providers, Velo truly means business. The system can be used in cross-border remittances, payments, lending, and loyalty points.
Additionally, a phased rollout of new features and functionalities optimizes the platform's adoption in each phase. Success in one step spurs confidence in the adoption of the following stage.