CEO of Morgan Creek Digital Mark Yusko during an interview with the YouTube series Thinking Crypto on April 10 said the company maintains a policy of not holding Ripple XRP or Stellar XLM.
The joint fund established in 2018 with Bitwise asset manager (The Morgan Creek Bitwise Digital Asset Index Fund), tracks the top ten cryptocurrencies, and it contains over 80% BTC weighting.
The Nodle Network, a competitor with IOTA in the space of internet of things, is currently migrating from Stellar XLM to its very own blockchain network following a release of the Arcadia network.
With so much negative news for the Stellar XLM altcoin in recent times, let's analyze the monthly trend of the XLMUSD and XLMBTC.
Technical Analysis
XLMUSD: Weekly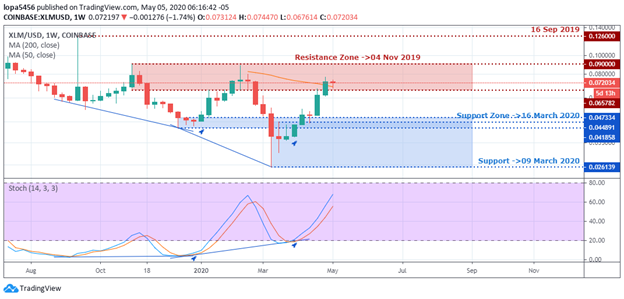 Weekly Resistance XLMUSD Levels: 0.1260, 0.090, 0.065782
Weekly Support XLMUSD Levels: 0.026139, 0.041858, 0.044891, 0.047334
Stellar XLM vs. USD has maintained consecutive weekly bullish closing candlesticks since it signaled a regular bullish divergence and a breakout of bearish accumulation resistance 0.044891 on April 06, 2020.
So far, the XLM increased in value by 194.58% from the all-time low, and trades within November 04, 2019, resistance zone (0.090 – 0.065782).
We expect a slowing in bullish momentum as the pair trades within the resistance zone. A bearish closing weekly closing candlestick within the resistance zone signals a directional change from bullish to bearish. However, a price close above the 0.090 resistance may switch its polarity to support.
XLMUSD: Daily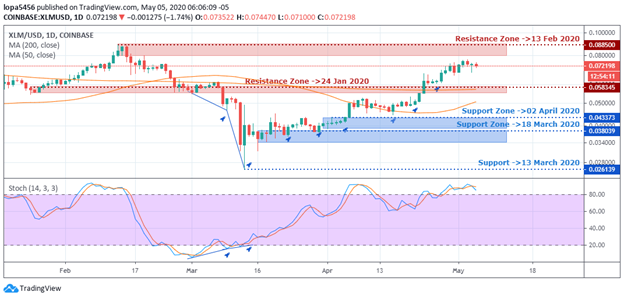 Daily Resistance XLMUSD Levels: 0.08850, 0.0800
Daily Support XLMUSD Levels: 0.026139, 0.038039, 0.043373, 0.058345
A view from the daily time frame shows the XLMUSD forming higher troughs and high peaks i.e., a bullish trend.
Following a failure of a first bullish divergence, the XLMUSD finally found support at 0.026139 after a second bullish divergence on March 13, 2020. Going forward from the divergence support, the bulls established higher support zones at 0.038039 and 0.043373 on March 18 and April 02, 2020, respectively.
Breaking above January 24, 2020, resistance, the bulls look to push the exchange rates into the February 13, 2020, resistance, where we expect a correction back towards the January 24 level now turned support.
XLMUSD: H4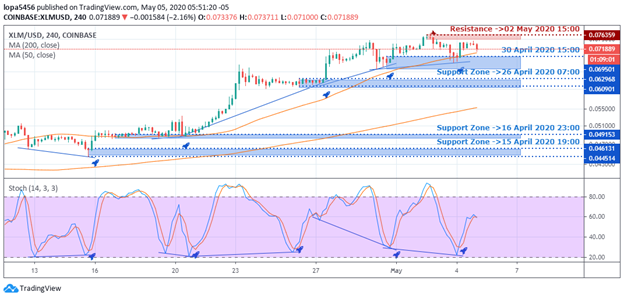 H4 Resistance XLMUSD Levels: 0.076359
H4 Support XLMUSD Levels: 0.069501, 0.062968, 0.060901, 0.049153, 0.046131, 0.044514
Regular and hidden bullish divergence patterns reinforce the monthly bullish trend from a 4hour chart overview.
An increase in buying pressure also sees the bears giving way and setting up support zones on 15 and 16 April 2020 19:00; 26 and 30 April.
With the April 30 support zone holding the pair from dropping below 0.069501 support at press time, we look forward to advancement of the XLM price beyond the 02 Mat 2020 15:00 resistance zone.
XLMBTC: DAILY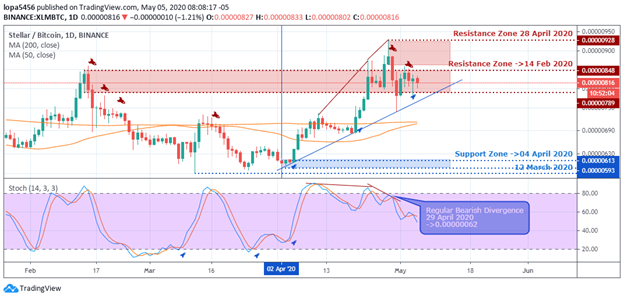 Daily Resistance XLMBTC Levels: 0.00000928, 0.00000848, 0.00000789
Daily Support XLMBTC Levels: 0.00000613, 0.00000593
The above daily chart of the XLMBTC shows the crypto pair trading above the MA-50 and MA-200 levels, an increase in demand for the XLM over the BTC, maintaining a monthly bullish trend.
A formation of regular bearish divergence and collapse of bullish accumulation sets a resistance zone on April 28, 2020, which the bulls will have to close beyond to resume their campaign to the upside.
Conclusion and Projection
The monthly trend analysis of the XLMUSD and the XLMBTC shows that both crypto pairs trade around significant resistance zones after while maintaining a bullish outlook.
Continuation of these bullish trends is hinged on a breach of these resistance levels across the multiple time frames.