Portals is a browser-based metaverse powered by Solana that allows users to explore a massive city, socialize, make their own personalized spaces. 
One of the major problems in the continuous expansion of metaverses is its accessibility since it usually requires expensive hardware in order to experience. As a response to this problem, a project was launched to offer a metaverse that anyone can access through a browser and a link, giving billions of people a chance to experience an immersive virtual world!
Background
The Portals project was started in 2021 by a team of engineers, designers, and entrepreneurs from different parts of the globe.
The project was co-founded by Adam Gomez, who has a background in game building, AR/VR development, and has worked for global brands including Microsoft, Disney, and Riot Games. 
The project's main goal is to create a virtual world that lets citizens explore, build, connect, and live in an entertaining, non-intimidating metaverse.
What is Portals?
Portals is a browser-based metaverse powered by Solana, where users can explore a massive city, socialize, make their own personalized spaces, and practically establish another virtual life. 
There's no need to download apps or extensions because its rich metaverse can be accessed on browsers like Google Chrome and Microsoft Edge.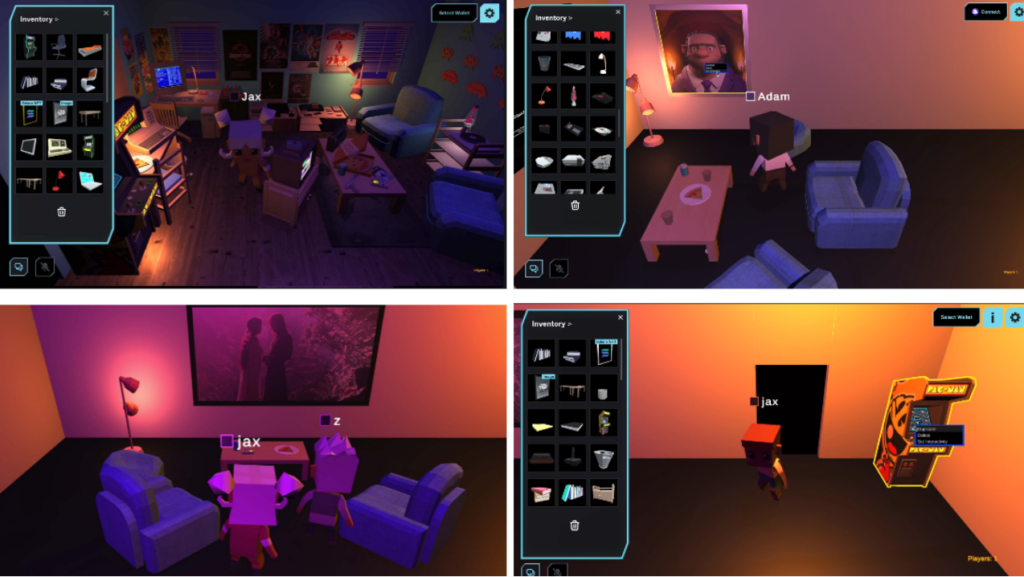 This metaverse has the feel of the classic simulation video game 'The Sims', which will make a lot of Portals residents feel at home because of many familiar elements.
Portals give residents complete and easy-to-use tools to customize their residence, stores, and other establishments they own.
One of the major goals of this virtual world is to fill its city with hundreds of experiences so that residents wouldn't run out of things to do when they are exploring.
Built for Builders and Players
The entire metaverse is designed to facilitate both builders and players so that all players' different goals in visiting the metaverse are all met.
Residents can also receive incentives by inviting other people and creating interesting spaces that can develop the virtual city further.
Portals, unlike other metaverse projects, wouldn't roll out big land sales right away but would first focus on developing its city's user experience to establish a strong community.
Inside their rooms, residents can also play HTML games, create an art gallery wall, inspect paintings, and put up a poster.
When they're outside, they can attend virtual concerts or play games built by their fellow citizens in the city center arcade.
Residents are already enjoying their experience inside the metaverse, in fact, they have already built movie theaters, town halls, comedy bars, and even underwater pirate bars!
Simple Drag and Drop Features
Portals is designed to be a user-friendly environment, both for crypto and non-crypto natives, even for people who haven't played any simulation games before. 
Its 'drag+drop' control for building rooms is an easy-to-use command that everyone can understand, making personalized spaces more fun and not intimidating.
Invite People Through Links
Since there is no need for expensive hardware to experience Portals metaverse, citizens can simply invite their friends into their virtual space by sending them a link.
Once clicked, their friends can finally hang out in their private virtual space, play games, watch videos, and more, like a real-life get-together!
NFT Access Cards
'Building One' Access Card
Portals citizens can acquire ownership of one of the units of a megastructure called 'Building One', and they will be given a non-fungible token (NFT) card that will serve as their proof of ownership. 
The card will also store a citizen's data about all the assets he owns in the metaverse and what projects he is working on.
Portals Downtown and Citizen Cards
Portals Downtown is the 'city center' of the Portals metaverse and where citizens can explore immersive virtual spaces, check out the Building One units, purchase items, and play games.
Citizen Cards provides users with access to what the platform calls "Pod off-grids," which are spaces in Portals but with limited customization features.
They can display NFTs and allow citizens to invite their friends, but even with these limitations, they provide a taste of what Portals can offer.
Having these spaces is a good start while citizens are not yet ready to purchase pricey space in the metaverse.
After Downtown's early access preview, the team will airdrop 'Citizen Cards' on Portals holders on February 24, 2022
Portals Receives $5 Million In Seed Funding
Portals have received a $5 million seed fund from investors, including Greylock, Solana Ventures, MonkeVentures, Alameda Research, and more.
Funds raised from its latest seed round will be used to expand its team to finally bring its ambitious metaverse plans into reality, including its Portal Downtown.
Apart from team expansion, Portals will also create additional tools and features to provide citizens with more options in creating assets in the metaverse.
Big Brands Sets Up Spaces In Portals
Portals' big potential in the near future can be seen with the big companies who have jumped into its metaverse to set up their very own spaces. 
Web3 companies and brands including FTX US, Binance.US, Magic Eden, and Audius have already announced their spaces in Portals, and more companies will surely follow in the future.
Partnerships
Everyrealm
Portals have partnered with Everyrealm, one of the largest investors in the metaverse space, and it is one of the latest companies to set up a new space in the Portals virtual world. 
Audius
Audius, a blockchain music streaming service, has partnered with Portals to allow citizens to play music in their virtual rooms.
The city's residents have even built an 'Audius' Lounge' for bigger music gatherings, a sign of the service's great importance in the platform.
BridgeSplit
BridgeSplit is an NFT financialization platform in Solana that offers NFT fractionalization, index funds, and NFT-collateralized lending.
The company will help create a fractionalized index of Portals NFTs, allowing citizens to have fractional ownership of an NFT, making purchasing assets easy and affordable.
Conclusion
Portals have rolled out what the market is clamoring for: An accessible metaverse that offers easy-to-use building tools, land ownership, NFT sales, friend invitations, community-building, and more.
And with big investors' trust, plus companies entering its virtual world, Portals has a massive potential to grow even further and even go head-to-head with bigger metaverse projects.