North Korea has been stealing millions of dollars from crypto exchanges in a bid to circumvent economic sanctions and boost the economy, a United Nations expert panel report has revealed.

According to the report which was leaked by news site Nikkei Asian Review, the nation led By Kim Jong-Un had acquired $571 million US dollars from their devious acts between January 2017 to September 2018.

It is unknown yet who were the victims of these attacks which were carried out by professional military departments who are an important part of North Korean government policy.

The victims that do come to mind first are the Japanese exchange, who were attacked in January 2018 with a new currency worth $530 million. In September last year, Zaif, a cryptocurrency exchange, was also attacked, losing $60 million.

South Korea, the nation's neighbours had a hack within the nation which saw the personal information of the 10 million users of Interpark's Interpark platform stolen and a ransom worth $2.7 million eventually paid. South Korea has long suspected that their northern neighbours were behind the attacks.

North Korea attacked various overseas financial companies between 2015 and 2018, and hidden its trails through blockchain technology, with the total figure for their income reaching $670 million.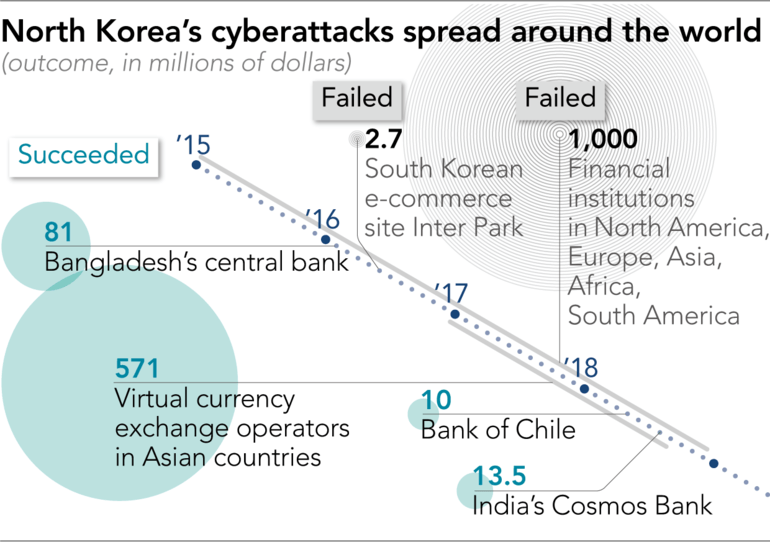 Blockchain and Bitcoin are perhaps the best way for North Korea to garner money during this difficult time, as the economic sanctions put in place by the UN and the US place a stranglehold on the nation, due to the lack of accountability and traceability. The UN report seemed to feel this was the case, with the report saying:

"In view of its difficult to track, money launderable and unregulated by the government, cryptocurrencies have given North Korea more ways to evade sanctions."

This appears to be a big problem for the UN and the report stressed the need for collective action against the actions of the state and called for nations to:

"strengthen their ability to promote strong information exchange with other governments and domestic financial institutions against cyberattacks against North Korea".

Overall, this is an interesting development. Other countries have looked to circumvent economic sanctions with the use of crypto currencies. Iran has recently started their Bitcoin journey and there were reports that Russia may follow suit. Could this be the start of a new foreign policy for all nations? Are we seeing the start of the cyber wars? Whatever the case may be, it is certainly an interesting move and exchanges and others may have to watch their back.