The DeFi arena has been spicing up the cryptosphere with the introduction of one food-sounding token after another. The latest menu offering has Kimchi brewing.
This crypto clone that recently jumped into the DeFi space has the same architecture with that of SushiSwap, which was also a doppelganger of Uniswap, but has a lot more to offer, including a governance token.
This neophyte has more value bombs than you can imagine. Named after the famous Korean dish, Kimchi has only been launched on September 1 but has already garnered a whopping half a billion dollars on its first day for less than 24 hours.
Kimchi – A Clone of Yuno and SushiSwap
There have been reports stating that Kimchi is a copy or clone of Yuno Finance. However, even Yuno Finance also copied Sushi's codebase.
Kimchi does have an edge over its parent protocols in the sense that it gives investors or traders the flexibility in managing their assets. In fact, it would allow yield farmers to deposit SUSHI, ETH, USDT, Uniswap LP assets, or TEND with the main purpose of potentially earning outrageously high interest while generating immense liquidity for the platform.
Ticking away, with just a couple of hours following launch, Kimchi has already offered APYs a hike of 120,000% on the TEND/KIMCHI pool as well as more than 70,000% on other Kimchi pools but has since dropped to the recent crash of the crypto market.
Right now, the highest APY offered is 48,000% with KIMCHI/AMPL. It goes without saying that no traditional financial vehicle can hold a candle to this.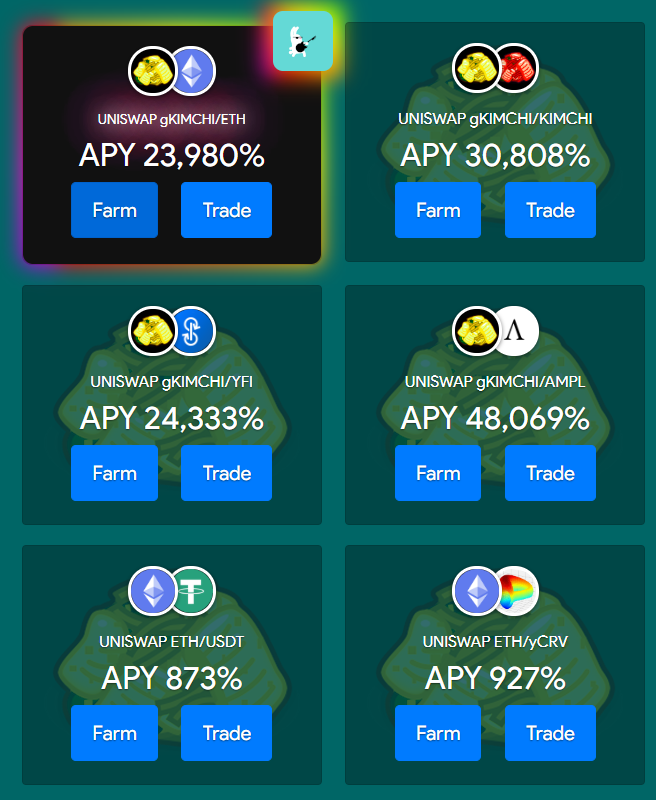 Its growth trajectory is a signature of most other DeFi projects such as Yam, which had a tremendous surge exceeding $150 before it crashed back to $0 in just 48 hours. It's now just trading at below $1.
Why Investors Are Drawn to Kimchi
While the Kimchi protocol is considered to be a high-risk investment because of its unaudited smart contracts, many people rush into with the proverbial strike while the iron is hot mania to get into it first, fast, and furious; so-to-speak.
With many tokens popping day-in and day-out, Kimchi is said to be the disruptive kind as they are said to be making history in the DeFi crypto world.
Another advantage is that in contrast to Yuno, the owner of the protocol has set for himself a timelock contract making it almost impossible for him to exploit.
The Recent Crash
The recent crash a few hours back has left not only DeFi tokens, but the broad crypto space in the reds. This caused KIMCHI to lose 73% of its all-time high and is trading at $0.61 as of press time.
The cause of the crypto crash has not been determined as of yet, nor are we certain when the next bounce would be. One thing is for sure, KIMCHI is not immune to the volatilities of the space. Unfortunately, some of the early investors of the token have been wrecked in the process.
Question is, should you buy more that now the DeFi token has dropped significantly? DYOR.