A lot of words might come to mind when you think of John McAfee. Legend, fugitive, genius and maybe madman. Whatever your opinions on the American, you can not disagree that the man behind McAfee security has not lived a colorful life.

Born in England on a US military base in 1945, to a father who was a US Soldier and an English mother, McAfee had a troubling start to life. His alcoholic father committed suicide whilst the family lived in New Jersey when McAfee was 15.

This tragic incident didn't stop him from living life to the fullest and making a big impact on the technology world and in his later years, the political one too. And of course, you can't forget his various forays into the crypto space too. Here is a (brief!) timeline of his highs and lows so far:

John McAfee Timeline

1987: Sets up McAfee Anti-Virus Software Company

After graduating from university and getting into the tech world through his time working in Silicon Valley for a number of years, McAfee had a life-changing moment when he was presented with the Brain-computer virus. Seeing this as a potential problem that needed to be solved, he set up McAfee Associates an anti-virus computer company.
1994: Sells McAfee Associates

To say that McAfee Associates was just a success would be an understatement. The company became a huge hit with, according to McAfee when speaking to ABC News, "4 million people using it within a month." He had the company incorporated into Delaware and then eventually sold the remainder of his shares in the company. He reportedly made $100million, with many thinking this would be his retirement fund and quiet life would be ahead. This is McAfee we are talking about, so think again.

1994-2000s: Retirement and Business Ventures

After garnering a huge windfall, McAfee set about spending his hard-earned cash on a variety of pleasure projects and some business ventures. These ventures included Tribal Voice, Zonelabs and Powwow, one of the world's first instant messaging services. However, during this time he would later reminisce on this period of huge wealth saying: "I wasted it, like everybody who has money."

2009: Financial Crash sees McAfee fall

With his large amount of wealth from the McAfee sale, the tech guru decided to make a number of stock investments and bought real estate. However, this would all come tumbling down with the financial crash and he saw his net worth fall off a cliff. He went from 100 million to just 4, something he told the New York Times in an article on those affected by the crash. However, later down the line, he would claim: "No, I didn't lose everything. I wanted to stop people from trying to sue me."

2009- 2012- Belize drama and hiding in Guatemala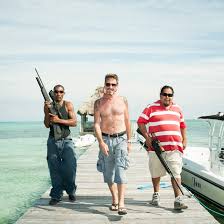 Now, this period is where life got really interesting for McAfee. The American decided to move to Belize in Central America, where he would start an antibiotic company. His company's lab would be raided, with the false claim that it was being used to manufacture drugs in May 2012. Six months later the Belize police would accuse him of being a suspect in the death of 52-year-old American Gregory Faull and at this point, he fled to Guatemala. In an attempt to avoid capture by Belize and Guatemalan police, McAfee hid out in the jungle. He was eventually captured by Guatemalan authorities but before they could deport him to Belize he "faked" a heart attack, giving his lawyer enough time to prohibit his deportation to Belize and instead he was sent to Miami. This period of his life set to be made into an action picture starring Zac Efron called, King of the Jungle.

2016-2018- Presidential Bid and Cryptocurrency moves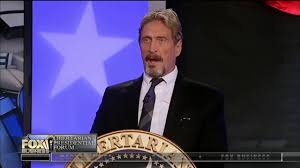 After marrying his wife and seemingly settling down a little, McAfee turned his attention to Bitcoin and politics. The latter saw him run for President of the United States in 2016 for the Libertarian party, eventually coming runner up. He plans to run in 2020 too. However his campaign was derailed after the Inland Revenue Service (IRS) accused him of tax fraud, and he subsequently left the US to live on a boat in Cuba, yet now he is in an undisclosed location.
In terms of cryptocurrencies, McAfee became enamored with the industry and decided to move one of his acquired businesses, MGT Capital Investments into the blockchain and cryptocurrency field. He left MGT in January 2018. In August he became CEO of Luxcore, a crypto company for enterprises but they parted ways in May 2019. Known for his bullish price predictions, McAfee has made many headlines with his premonitions.
McAfee Price Predictions
McAfee has been known for his wild and outlandish price predictions over time. His most famous assertion came when predicting Bitcoin's price in July 2017, when he said Bitcoin would reach $1 million dollars in price by 2020.
More recently, McAfee has doubled down on his prediction. In an interview with Forbes, the McAfeeDEX founder said he was sticking to his call and pointed to the coin's scarcity as his reasoning. He said:
"Let's get real, there are only 21 million bitcoins…Seven million of which have been lost forever, and then, if Satoshi [bitcoin's anonymous creator] is dead, add a few more million,"
McAfee Announces Ghost Token
McAfee has announced that he is releasing his own privacy based token called "Ghost". The crypto is reportedly in production and will use a PoS algorithm. Naturally the token will be hosted by the crypto enthusiasts decentralized exchange, McAfeeDEX.
McAfee believes that this token, when used in conjunction with his exchange, will provide privacy and full control over their finances. One would naturally assume that this token will fare much better than WHACKD, the famous "Epstein Didn't Kill Himself" token he released in November last year.
Latest McAfee News

McAfee has done a string of interviews and talks more recently. He talked more about crypto, talking about the need for mainstream adoption to CryptoFinder: "What's dangerous is the users who insanely invest in crypto and not using it. It's madness! If we don't use it, the hope of getting rich with it is shattered. Everyone thinks crypto is for exchanging. It's for transacting, buying things with crypto."
After a week's delay, Tron blockchain was finally released on McAfee DEX. The Tron listed coins will all be available on McAfee DEX as will TRX. McAfee also mentioned that the inland revenue (IRS) in America are not happy with him as well as the SEC for launching McAfee DEX.
McAfee made headlines with the release of his token WHACKD, with the subtitle, "Epstein Didn't Kill Himself". He announced the token on Twitter, November 11th with the image of Hillary Clinton holding a pizza looking at a man's feet dangling. The deflationary ECR 20, Ethereum based token and will be issued via an airdrop.
McAfee has recently set up McAfee Dex, a decentralized cryptocurrency exchange. The 74-year-old released the exchange in October and said it would support Ethereum initially. The exchange has just partnered with Tron blockchain in a big move for both parties, adding to its usage points.
The 74-year old has recently slammed Facebook's Libra token and the creators behind it saying: "Facebook's Libra is an abomination, a twisted perversion of cryptocurrency. By its very definition, cryptocurrency wants to free us from control, but Libra is nothing but control."
McAfee did an interview with The Edge, in which he talked about McAfee Dex. In the interview he revealed more about the exchange: "It can't be shut down because it's in smart contracts on the blockchain. We have almost 30 portals already and hopefully by the end of next year, we'll have 1,000 thousand portals. We'll be immune from any government control or monitoring or for anything else."
Update
This article was updated on 20/4/2020 to show McAfee's Ghost token announcement