Formosa Financial is a platform that provides treasury management services for innovators of blockchain technology. The platform hopes to create a solution for 3 of the most pressing needs in the current market, which are: payment services, treasury management, and crypto security.
Through payment services like international wire and digital fiat payments, Formosa Financial offers a widespread cross chain solution and at the same time creates a connection with a mature banking layer. The treasury management aspect of the platform offers P2P lending coupled with bank-issued credit lines that act as a substitute for fiat credits and are based on crypto assets. Finally, Formosa Financial's crypto security offers complete brokerage custody using cold and hot wallets coupled with multi-signature wallets to ensure the highest level of security.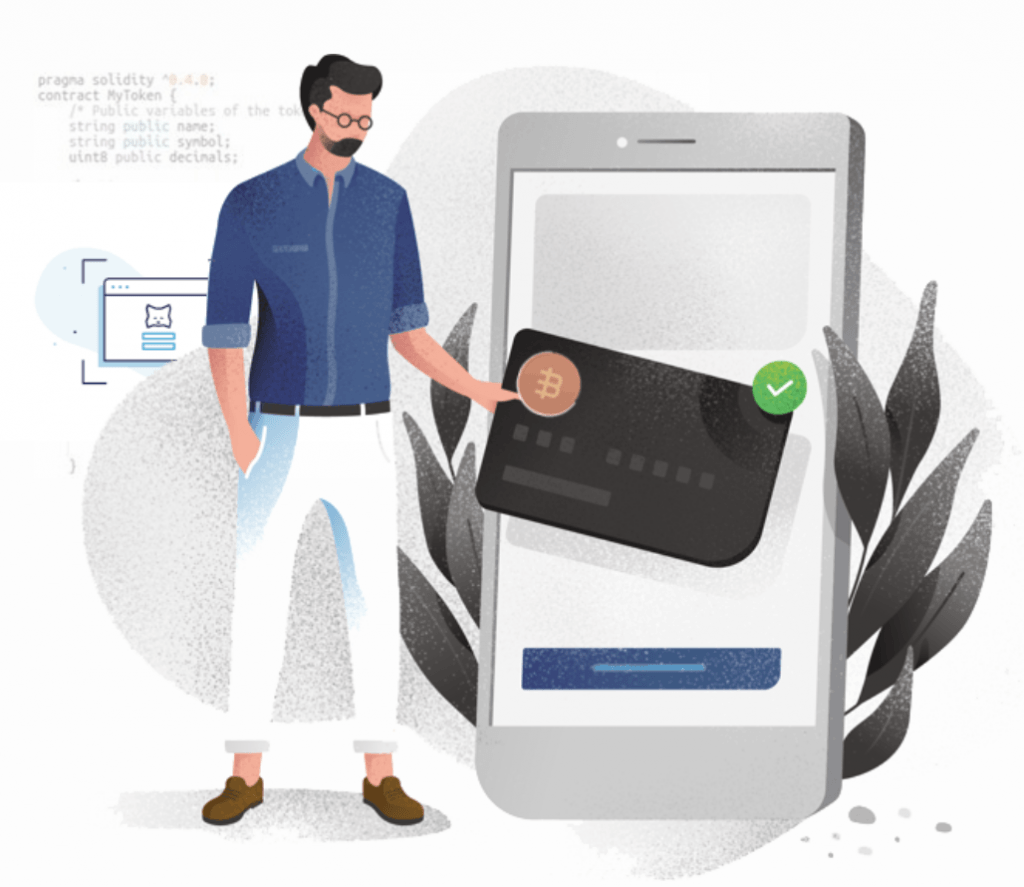 Key Features and Advantages of Formosa Financial
Secure Custody and Asset Storage – The Formosa Financial platform secures and stores assets by making use of cold and hot wallet management procedures. This assures members of the platform that their digital asset holdings are secured by high-class wallet management techniques. The platform also integrates a hyper-secure vault that is developed with a multi-signature architecture, which allows the seamless management of asset positions.
Deep Liquidity and Trade Execution – Formosa Financial uses a liquidity sourcing platform to ensure that excellent prices are executed successfully. It also allows members within the network access to the best rates by enabling order sharding to multiple exchanges. The platform also utilises a liquidity-seeking algorithm by integrating OTC trading pools and exchange API integrations.
Risk Hedging and Diversification – The bespoke risk management services offered by Formosa Financial substantially reduces the exposure of blockchain innovators to market volatility. The platform has been able to utilize custom hedging solutions that don't only mitigate liquidity but also operational and market risks.
How Does Formosa Financial Work?
With the increasing popularity of banking services that are API-enabled, this is the appropriate time for the emergence of products with blockchain technology at their core. This creates a chance for seamless interoperability and integration of parallel financial ecosystems. Formosa Financial, in an effort to bridge the gap between both worlds, has created an API platform that fully supports core blockchain protocols coupled with conventional corporate banking protocols.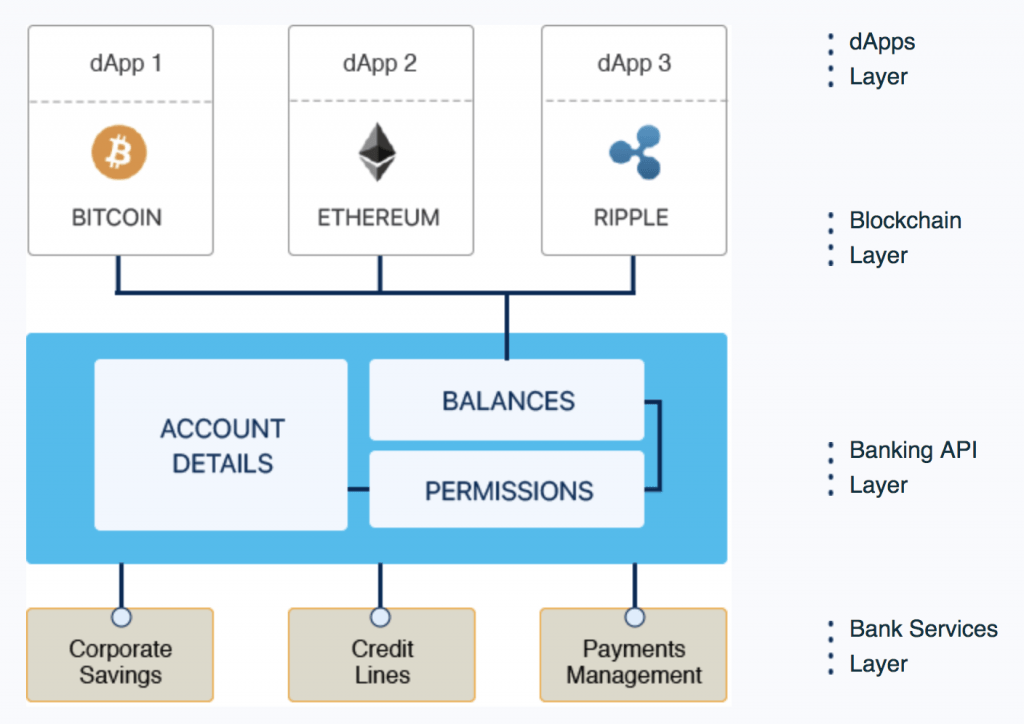 The Formosa Financial platform serves as a distribution medium for DApps that are built on authenticated protocols. These DApps will simultaneously take advantage of an authorised banking environment that follows customer preferences and compliance considerations.
Formosa Financial Roadmap
With the goal of making an effective and easy platform that allows blockchain innovators to manage their funds, the Formosa Financial platform launched in the first quarter of 2018. In the second quarter of 2018, the development of the platform and complete fundraising began, which will be followed by the compilation of ICO company client waitlist and custody and brokerage service in private beta in the third quarter of 2018. For the fourth quarter of 2018, there will be risk hedging in private beta and also securing of banking relationships.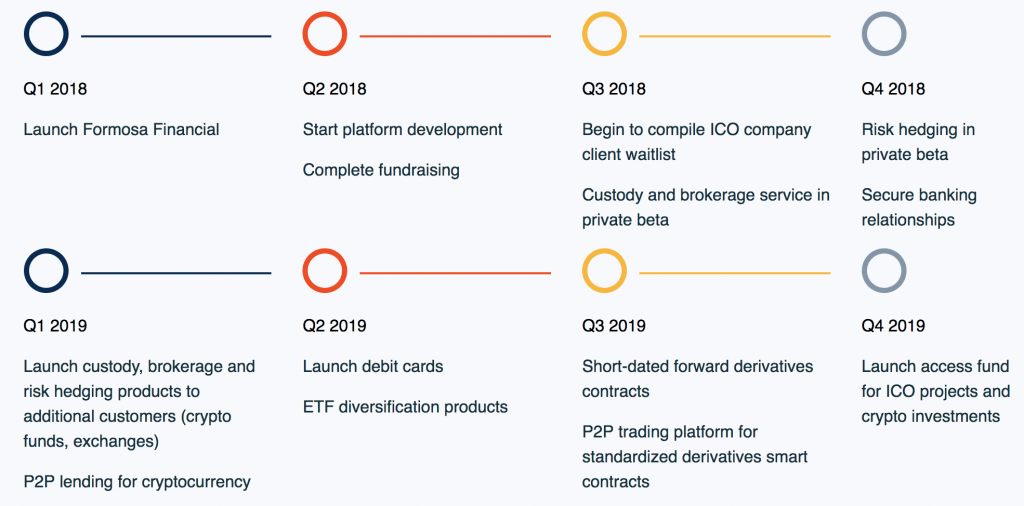 The Q1 of 2019 is scheduled for the launching of risk, custody and brokerage hedging products to crypto funds and exchanges, and P2P lending for cryptocurrency. While the Q2 of 2019 has been to be the launch of debit cards and ETF diversification products, the Q3 of 2019 will for short-dated forward derivatives contracts and P2P trading platform for standardized derivatives smart contracts. Finally, the Q4 of 2019 will be for the launch of access funds for crypto investments and ICO projects.
Hard Cap and Token Distribution
The hard cap of the in-app token for the Formosa Financial token, FMF has been placed at 2 Billion FMF tokens with 30% meant for the platform's Team and Advisors, 40% for FMF development, and 30% for private sale.
From the pool meant for the FMF development, 10% (200,000,000 FMF) will be used for licensing, legal, and compliance, 15% (300,000,000 FMF) will be used for platform development, and the remaining 15% for the Ecosystem. The pool for Team and Advisor has been shared, with the Team getting 25% (500,000,000 FMF) and Advisors getting 5% (100,000,000). The remaining 30%, which amounts to 600,000,000 FMF, will be put up for private sale.