Enjin Coin (ENJ) has seen an increase of 23.8% following an update that enables the cryptocurrency to be added in Aave's DeFi protocol.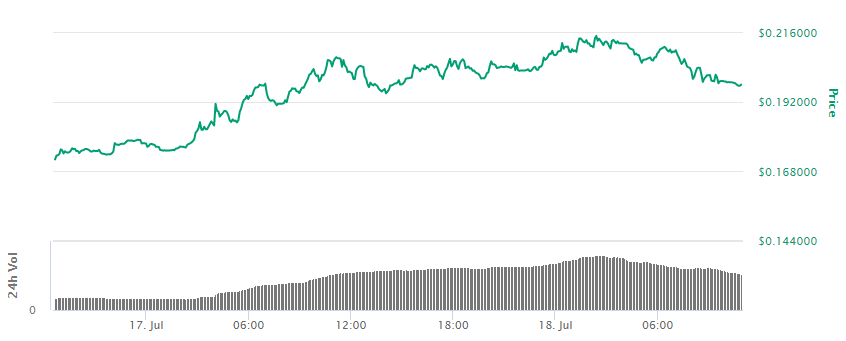 After the announcement, ENJ went from $0.172 to $0.214 in less than two days. As of press time, the gaming asset has retraced back to $0.198 as trading volume appears to be in a downtrend.
Enjin and Aave
The Enjin platform enables gamers to earn ENJ by playing the platform's growing collection of games and applications. They can then sell these game items in the Enjin Marketplace, which has nearly six million ENJ traded over the last year.
With Aave, they can now grow their in-game earning by lending them to the protocol. The integration is said to bring the $159.3 billion games market to DeFi.
Players can now lend their ENJ to other gamers and developers via the Aave Money Market in order to gain a passive stream of income from their in-game winnings.
Moreover, the Aave platform can also be used by gamers to borrow ENJ in order to buy gaming items in the Enjin Marketplace. Once they're done with the items, they can simply resell them on the marketplace and use the funds to repay the ENJ they borrowed from the Aave Protocol. This is an unprecedented degree of economic flexibility in the gaming market.
DeFi and Gaming
Gaming is the most popular use case of DApps in the Ethereum blockchain, followed by DeFi. It's only natural that the two should be integrated and Enjin happens to be one of the most valuable crypto protocols in the gaming niche.
Last July 13, Enjin announced that ENJ will be added as a Bancor V2 launch pool. This basically means that ENJ holders will now be able to provide liquidity to the DeFi platform and earn a percentage of the pool's trading fees. The pool will be able to take advantage of the ENJ/ETH decentralized price feed, which was newly launched by Chainlink.
With two integrations under a week, Enjin seems to be on a roll with DeFi protocols. It wouldn't be a surprise if other platforms like Compound or Balancer would follow suit.
Despite some concerns about its sustainability, DeFi protocols have exploded in popularity this year, even more so since the start of June. Its growth in user base and total locked-up assets are higher than ever, thanks to users participating in the liquidity market.

Now, that the Enjin community has joined in, we can only expect more DeFi and gaming integrations to come in the next few months.