CoinBurp is a uniquely built user-friendly DeFi and NFT wallet equipped with a marketplace, where users can buy, sell, store, and trade funds as well as collectibles.
For quite some time now, decentralized finance (DeFi) and non-fungible tokens (NFTs) have played a central role in the expansion of the blockchain worldwide. The market has been flooded with too many DeFi and NFT projects, opening the door to a number of issues affecting user's experience and satisfaction.
Most products within the market are affected by a lack of interconnectivity with Centralized Finance(CeFi), complex end-to-end user experiences, and rather lacking user interfaces. Furthermore, the current ecosystem highlights a wide range of products not suited for the needs of the new generation of crypto enthusiasts, where security and insurance are still topics overlooked by trendsetters within the market. This is why CoinBurp was launched as it aims to leverage NFT's underlying value and attract more creators, investors, and traders to the blockchain.
Background
CoinBurp's introduction to the DeFi ecosystem started in 2014 when founders Peter Wood (CEO) and Bipin Bhanderi (COO) first introduced BitBroker, a brokerage website that quickly became a leader in the blockchain and would go on to amass a whooping £100,000,000 in turnover. About four years later, the duo launched the crypto platform CoinBurp.
Currently, the CoinBurp team is composed of 13 members with experience in blockchain, marketing, finance, design, and software engineering. They aim to change the dark and intimidating landscape of the cryptocurrency market through a user-centered design process focused on user experience and satisfaction.
The London-based team has invested time and money creating a secure platform that delivers a best-in-class user experience. Additionally, they are a completely self-funded and dynamic unit focusing heavily on users' needs, community, and education.
What is CoinBurp?
Ranked as the number #1 crypto trading platform in the United Kingdom, CoinBurp is a uniquely built user-friendly trading platform. Specifically, CoinBurp is a DeFi and NFT wallet equipped with a marketplace, where users can buy, sell, store, and trade funds, as well as collectibles.
Currently, the platform supports multiple crypto and fiat currencies, namely ETH, BTC, XRP, LTC, XLM, British pound, and Euro. Furthermore, CoinBurp's protocol also enables clients to import their seed phrases from other prominent DeFi wallets like MetaMask while trading, ensuring a highly efficient trading experience.
The team behind the blockchain solution puts customer satisfaction above all. On top of the platform's silky-smooth user interface, they have taken the liberty to implement an incredible raffle system, where users have the possibility of winning some rare and valuable NFTs.
In Partnership with Sandbox Game, Avastars, and NFT Boxes, the DeFi platform plans to soon launch the world's first generative NFT loyalty program. The Program will allow users to enjoy from CoinBurp's generated NFTs and various other benefits within the ecosystem.
In general, the CoinBurp team is a big advocate of the shifting digital and physical assets landscape caused by NFTs. They believed that NFTs offer multiple applications while guaranteeing integrity in the marketplace, as NFTs are unique tokens issued on the blockchain, non-reproducible, and traced to verifiable owners. They seek to expand on NFTs' swift traceability and integrity to better the marketplace into a system where parties can trade with one another in total confidence and security.
More CoinBurp Key Features and Services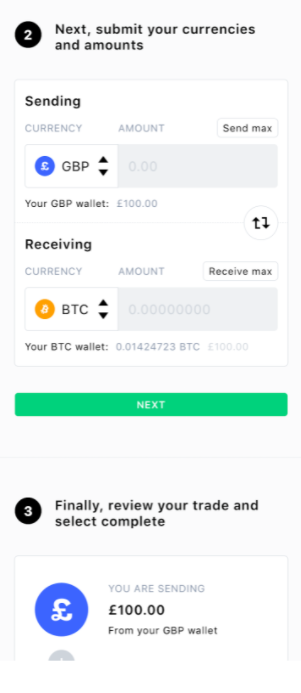 CoinBurp's fast-paced and easy-to-use ecosystem enables users to register their accounts within minutes. The platform only requires personal information that is essential to the user experience within the protocol. The whole onboarding process takes less than 15 minutes and participants can proceed with transactions as soon as everything is set up.
Furthermore, powered by the UK's Faster Payments Service or FPS, clients have the ability to deposit all funds directly from the bank. FPS is equipped with a premium transaction technology that processes payments in a matter of seconds, so users can deposit the British pound or any other fiat currency easily through UK bank transfer.
The team behind the CoinBurp protocol has made crypto trading easy, with 3 simple steps users can complete crypto transactions instantaneously. They have transformed headers into easily understandable instructions, and integrated instant trades, allowing traders to complete ready-made trades with the click of a finger.
Overall, the protocol offers 0% commission fees on all cryptocurrency deposits, British Pound deposits of £100.00 or over, Euro deposits of €100.00 or over, and on all trades
BURP Token (BURP)
CoinBurp utility token or $BURP is a highly functional and very rewarding tool within the platform's ecosystem. When launched, the BURP token will offer a variety of use cases; as it can be staked, used for DAO governance, and is equipped with numerous benefits for all holders. 
The platform's staking system will allow BURP holders to generate APY specific to staking and users will also be eligible to participate in CoinBurp NFT raffles. Additionally, CoinBurps selected partners will be offering exclusives NFTs of varying rarity to all BURP stakers, increasing benefits for users.
Once released, the token is projected to reach 500 million in maximum supply by 2028, with 49% of the supply allocated for end-users, 11% for early backer and advisors, 15% to private rounds, and 25% will be under CoinBurp's team possession.
The very first public sale of the token is set for June 2021, where up to 5% of the token supply will be available with no issuance schedule, giving crypto enthusiasts the possibility to buy and sell the token instantaneously.
Conclusion
CoinBurp is an efficient implementation of blockchain technology that has successfully managed to leverage common and already existing solutions within the market. Its decentralized wallet and marketplace are supported by a user-friendly interface that facilitates all aspects of crypto trading.
Overall, the protocol is unique, as it offers users numerous benefits. Backed by its very own utility token and use cases, users are sure to experience a different outlook on currency trading, as well as NFTs implementation.
Supported by the likes of Jumio, Enumis, and Selachii, the platform seems like the perfect bridge between DeFi and CeFi. With an already established influence in the UK, it's likely only a matter of time before CoinBurp becomes a staple in the global blockchain sphere.