CatPunks is a one-of-a-kind NFT project that aims to build the first cat-infested metaverse, being one of the very few NFT teams on Solana who are seriously building persistent 3D online worlds. While most projects are merely limited to providing digital artwork for profile pictures (PFPs) and forming DAOs, CatPunks screams QUALITY in every aspect and is on track to revolutionize both crypto and metaverse technologies.
The forthcoming Paw City™ metaverse is built to support a digital social network where people can interact with each other in a persistent 3D environment through their NFTs.
As of December 2021, the team has already released its 3D CatPunk collection, 2D CatPunk collection, and 2D CatSteamPunk collection, which are all available to purchase at Magic Eden and Solanart.
CatPunk's 3D gallery is already live, as shown below, and can be viewed via a browser.
Paw City™ is slated to go live possibly in 2022, starting with the Meow Bar, a 3D room for multiple CatPunks to hang out and socialize in VR.
What is CatPunk?
CatPunk is a metaverse project on Solana that features a 3D collection of buff and tough-looking felines powered by non-fungible tokens (NFTs) launched by ZodiLab. The 3D CatPunks are algorithmically generated and possess a variety of classes and traits, such as hair, eye, mouth, skin, top, and background.
The NFTs will be stored on Arweave, a data storage protocol that supports the permanent storage of digital assets.
The team is currently working on its 3D metaverse along with the best guys in the business. CatPunk's decentralized metaverse is composed of several elements, such as governance tokens, utility tokens, and NFTs. This way, community members can vote on the important decisions that can determine the next steps of the platform.
The CatPunk metaverse also features a utility token called $FISH, which will serve as Paw City™'s currency.
CatPunk NFTs
CatPunk's core collectibles in its metaverse consist of the 3D CatPunks (9,999 pieces), 2D CatPunks (5,000 pieces), and 2D CatSteamPunks (2,500 pieces).
The 3D CatPunk is the project's primary collection that is slated to represent the digital identity of Paw City™ citizens. All 3D Catpunk holders will soon be able to use their NFTs as avatars in the metaverse.
The use cases of the 2D CatPunks and 2D CatSteamPunks are currently being decided by the team and community on Discord.
3D CatPunks
2D CatPunks
2D CatSteamPunks
OG PASSES
The OG Passes serve us Paw City™'s governance token for its decentralized autonomous organization (DAO), which give holders voting rights to participate in the project's decision-making.
The OG PASSES are actually NFTs, and come in three distinct colors:
Red — airdrops 250 FISH tokens per month
Green — airdrops 200 FISH tokens per month
Blue — airdrops 150 FISH tokens per month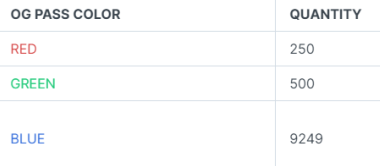 These tokens differ in quantity and provide tiered perks to their holders. The Red pass is the rarest and gives the highest perks, making it extremely valuable compared to the Blue pass. The perks include inclusion in $FISH airdrops, passive $FISH token yield, as well as exclusive access to clubs, conferences, virtual rooms, and metaverse experiences, among others.
Remember, $FISH rewards for OG PASSES will last for 5 years. You can purchase them on DigitalEyes, Magic Eden, and Exchange.Art.
If you hold a 3D CatPunk and an OG PASS in your wallet concurrently, your airdrop rate doubles.
FISH Token
FISH token is the platform's native utility token that supports the economy of the CatPunk metaverse. FISH is primarily used to purchase CatPunk NFTs initially, but in the future, it can be used to enter Paw City™ as an outsider. For instance, if you are a holder of Degen Apes or Solana Monkey Business NFTs, you can pay FISH to be able to enter the CatPunk 3D world as an Ape or Monkey.
Users can set multiple themes in their own 3D galleries. FISH can also be used to unlock extra features in the 3D gallery and room, such as themes. The 3D Meow Bar will also soon host special events with FISH tokens as entry payments.
Right now, the only way to get some FISH is to receive them from monthly airdrops as an OG Pass holder, or through community events, contests, and giveaways on CatPunk's Discord server.
Who is ZodiLab?
Zodilabs is the team behind CatPunks. They are composed of artists and Web3 developers inspired by the cyberpunk genre. The rich backstory for CatPunks is a testament to that.
CatPunk Classes
There are four classes of CatPunks in Paw City™:
Punks — Punks represent 55% of the total population.
Weaponwielders — Weaponwielders represent 30% of the total population. Their distinguishing feature is the presence of their mechanical parts, with some electronic parts exposed.
Cityrunners — Cityrunners represent 10% of the total population. Their distinguishing feature is their glossiness and high-tech look.
The Awakened — The Awakened represent 5% of the total population. Only they know the truth.
CatPunk Gangs
Besides the various classes of CatPunks, Paw City™ also features four different gangs, divided by the region they rule in the city.
The All-Nighters, for example, own the nightclubs on the east of the city.
The Kabutowari handles the drug trade on the south side of Paw City™.
The Broken Chip holds the north.
The Katana gang controls the west side.
These gangs also perform different underground activities within Paw City™.
What Makes CatPunks Different?
While 9 out of 10 NFT projects today lack originality and vision, the ZodiLab team has proven themselves to be competent after successfully fulfilling the milestones in their roadmap earlier than expected.
The 3D gallery is already live, and so are the 3 NFT collections. Right now, most users are patiently waiting for the 3D Room and Paw City™ metaverse to go live as they accumulate more CatPunks and OG Passes from paperhands in marketplaces.
How to Get Involved with CatPunks?