As more and more people switch on to cryptocurrencies and blockchain the need for the institutions and exchanges to have strong and secure custody solutions in place grows.
We're all familiar with the media horror stories about cryptocurrency exchanges being the victim of hacks, while other exchanges have been in the headlines for equally controversial reasons, for example the collapse of New Zealand exchange Cryptopia, or the loss of assets following the death of the owner of Quadriga CX.
It's clear there's significant space to improve, and doing so will directly benefit the exchanges in question by giving their customers the guarantees they need and want to use their services.
Onchain Custodian is one such custody provider. Based in Singapore the team has an impressive set of backers, including Sequoia Capital.
The business also counts NEO's Da Hongfei among its backers, with the founder of NEO sitting as the chairman of Onchain Custodian's board.
To find out more about the importance of custody solutions we spoke with Alexandre Kech, CEO of Onchain Custodian.
How did you get into crypto and blockchain and where were you before you joined Onchain Custodian?
I got into crypto from both a personal and professional angle. On a personal point of view, I started looking at it around 2013 and started making investments early 2017. I was and still am fascinated by the concept and I believe it will revolutionize the way value is represented, recorded and shared.
As part of my last job at SWIFT, as regional Head of Standards, then Head of Securities & FX Asia Pacific, I had the opportunity to participate directly in blockchain POC and projects. I became one of the blockchain champions at SWIFT and was invited to speak at more and more blockchain events.
Meeting professionals in that space convinced me once and for all that it was the future.
From your experience at SWIFT what are the most important skills that you have transferred to the blockchain space?
I am modestly trying to bring common sense, established professional best practices and the importance of standardization to the industry. Blockchain and crypto are professionalizing thanks to collaboration between early believers and converted traditional players having moved, like me, to the other side.
Our skills are making the industry more innovative, professional, reliable and trustworthy.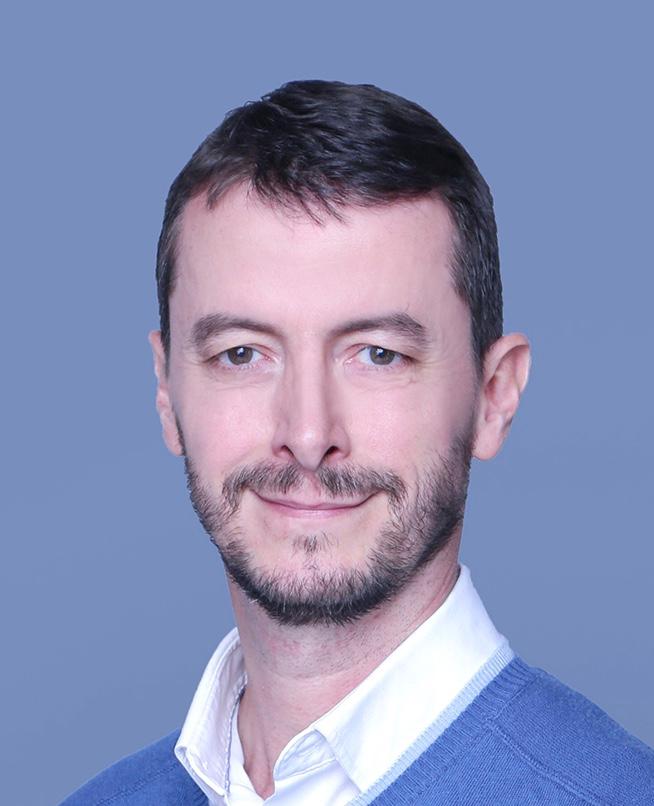 How did you find the change from the traditional financial world to blockchain?
I've been lucky to make the transition surrounded by an amazing team and board.
We are a great mix of blockchain and traditional financial world experts and leaders. We learn every day from one another. The support I was able to get from my colleagues has real smoothened the transition. It has been a blast so far.
The main differences between the two worlds is around professionalism and conservatism. I meet many players in the blockchain and crypto space who oversell their competences, moving from being an ICO advisor to an STO adviser overnight, for example, whatever the new trend is. Many such parties have disappeared for good after the crypto winter, but it is still a challenge to sort between serious players and fools.
The traditional financial world does not have that professionalism issue that much, but it is so conservative. I appreciate the speed and dynamism that fintech offers. It is great to be able to have a customer requirement implemented on our platform in a matter of weeks.
How aware are institutions and exchanges about the importance of custody? Do you think this is something that is gradually improving?
It is gradually improving but we're not there yet. Exchanges have been the most affected by hacks and are realizing they either must invest big money and human resources in doing self-custody properly, or they need to outsource to true professionals.
The big ones are happy to spend. Medium and low size exchanges have understood that it was, both economically and branding wise, smarter to partner with independent third-party custodians.
On the investment side, it depends how much traditional capital market expertise they have. If none, some are still happy to send private keys by email or have one individual managing the assets on one physical device lodged in a drawer or, a bit better, in a safe. Operational disasters make them progressively understand the importance of proper custody managed by professionals.
More and more traditional funds and asset managers are entering the space cautiously and for them, there is no question that they need to use a third-party custodian.
What is the one thing that needs to happen to propel blockchain and crypto into mainstream use?
My response might surprise you but more Libra projects. Libra, with all its weaknesses and issues, despite the many justified or not criticisms it is getting from the historical crypto space, brings one major advantage -it is forcing all governments and regulators around the word to look at blockchain and crypto, this time seriously.
Whatever the outcome, it will reduce the ambiguity and uncertainty about how cryptocurrencies and other tokens, as well as industry players in that space, will be regulated.
Where do you see the cryptocurrency and blockchain space in 10 years' time?
In 10 years, I think blockchain and digital tokens will have become mainstream to the point that everyday users will not even know their payment or investment order has been powered by blockchain and their value ownership is in the form of a token.
New investment opportunities will be accessible to a broader range of investors than today. Very liquid fragmented ownership of various assets types (gold, real-estate, fine-art, wine, airmiles, etc), tradable against fiat currencies or each other on secondary market, will allow retail and institutional investors to diversify their investments in products they could not have imagined being able to access.
In 15 years, maybe earlier, I think it will even be possible to buy a house or a car with a combination of fiat currency, tokenized assets and crypto currencies either as payment or as collateral for a loan.
How do you see regulation in the US and European markets affecting the Asian market?
As for any financial services, it is very difficult for a fintech to deal with regulatory requirements concerning US customers. It is easier for European clients.
In any case, we currently focus on Asia Pacific customers at this stage of our development. They are underserved and we want to offer them a close-to-home, private bank-like service they have difficulty getting from custodians headquartered abroad.
Regulation in Asia is very different from country to country but operating from Singapore, we find it easier to deal with. The rules are clear, and our regulator, MAS, is forward-looking. The other regulators in the region also tend to take clear stands, whether good or not, on crypto and other tokens. We are trying to keep a heatmap of the various regulations in the region as they are constantly progressing.
We have seen some significant moments recently in the recognition of the space. E.g. President Trump tweeting about Bitcoin and cryptocurrencies, the US Federal Reserve Chairman Jerome Powell, calling Bitcoin a 'store of value'. Generally, do you think these developments are good news or bad news for the industry?
I will revert to my answer to your previous question about our industry becoming mainstream. With the Libra project, crypto and blockchain are now on the table of governments and regulators. There will be political decisions and regulatory clarification on how our token industry must comply.
This noise around Libra is also contributing to some level of education to the masses on a very complex topic. I am just not sure whether what we hear will effectively help people grasp the amazing benefits than blockchain and tokens can bring them in the future.