With rumours of Kim Jong-Un's apparent death, one CoinDesk reporter decided to add his own story to the mix and claimed the North Korean leader was moving his Bitcoin millions onto the Coinbase exchange.
Written in the Whale announcement style as if "big news" was coming, Coindesk's markets correspondent Zack Voell tweeted to his followers on Saturday night, as news surrounding Kim's health was growing, saying:
65,091 #BTC [HAVE BEEN] TRANSFERRED FROM KIM JONG-UN'S TREZOR WALLET TO #COINBASE.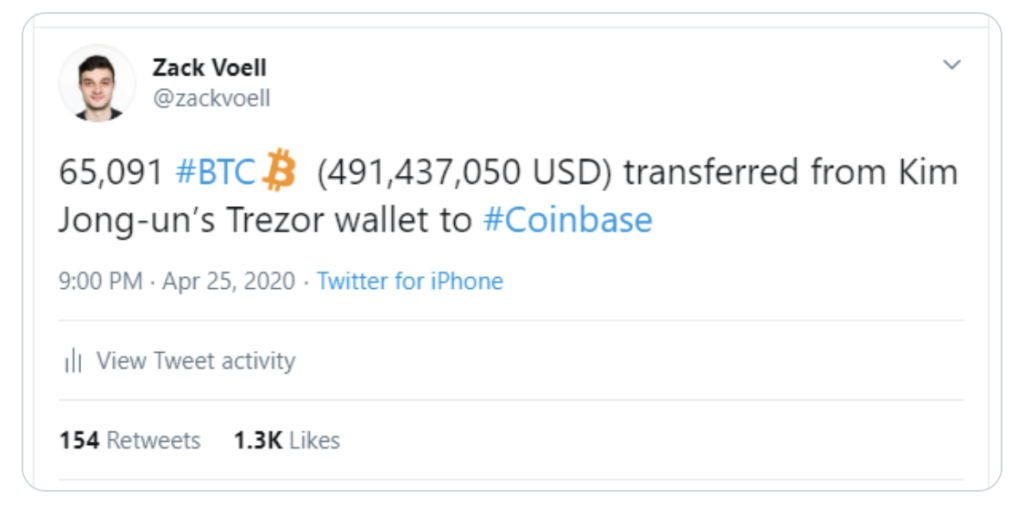 Did Voell have a man on the inside in North Korea feeding him information? Was Kim really setting up a Coinbase account post heart surgery? Media outlets and crypto commentators certainly seemed to think so as various sites began commenting on it like it was a fact.
It was not just in English speaking media too. Chinese crypto commentators also began talking about Coinbase and the impact of a Kim sell-off into the market. One user tweeted Voell telling him of the huge reaction on Chinese social media, saying: "Woke up, saw everyone is talking about this. Literally everywhere, Weibo, WeChat groups, all crypto medias"
No doubt shocked and surprised his tongue in cheek tweet got such a reaction Voell was forced to delete and then clarify the tweet, as "some crypto media outlets are still taking it seriously." The writer concluded by saying what we were all thinking, stating:
"The stupidity in this industry is just incredible."
In fairness to those duped, North Korea and by extension Kim's cryptocurrency fortune is large and often reported on. Last August a report by the United Nations (UN) claimed the Democratic People's Republic of Korea had amassed $2 billion from cyberattacks and exchange thefts.
The team of North Korean hackers tasked with funding the nation's economy are known as The Lazarus Group. Asia Crypto Today previously reported that the country likely holds around $571 million worth of crypto, amassed from these hackers in 2018.
Alongside the more nefarious measures to earn cryptocurrencies, the lawmakers in North Korea are also planning a national cryptocurrency, perhaps in a similar ilk to China's digital currency electronic payment (DCEP).
The acceptance and usage of cryptocurrencies have become a strategy for countries like Iran and North Korea who are often suffocated economically from US sanctions which are entrenched further through the US' dollars dominance in the market. The cryptos are seen as an outlet away from the dollar reserve currency and a good way to make revenue unchallenged.
North Korea has even enlisted some help from the cryptocurrency industry. Ethereum developer Virgil Griffith visited the nation to alledgedly give advice on a national cryptocurrency. However, I'm not sure many others will be making the same trip as Griffiths was arrested upon his return.
That is unless you are Internet King and US fugitive, John McAfee. The McAffeeDEX founder was shockingly pictured with the North Korean Leader who looks ready to enter his bed for a late-night quarantine snack. 
(That was a joke too!)