Time and time again, the world of cryptocurrency never seizes to come up with an innovative surprise and ways to bring more people on board the train of digital currencies. Now, two companies have partnered to create what is referred to as a "Pro-trading" competition. Who are these companies? They are Travala.com and Switcheo.
But, who are they?
Before we dive into the Pro-trading competition and how you can be a part of it, let's talk about Travala and Switcheo a bit, shall we?
Travala is simply a travel booking marketplace which bridges the gap between consumers and vendors, and connects them together directly on a platform where they can go over their deals without any commission or fee. It is a ground-breaking platform with the NEO blockchain at its core of operations. Here, vendors are able to lower their operational costs, and in turn, offer competitive pricing to their consumers.
Switcheo, on the other hand, is a decentralized exchange that allows users to exchange NEP-5 token, which is the most popular token protocol used on the NEO blockchain while retaining entire control of their tokens at all times.
How Does the Pro-Trading Competition Work?
You know the AVA tokens right? The ones used for exchange on the Travala platform, yes those ones! All you have to do to be a part of the pro-trading competition is to trade them on the Switcheo Exchange starting from the 3rd of August till the 12th of August and stand a chance to share from a pool of 50,000 AVA tokens.
At the end of the competition, the 1st place takes 17,500 AVA, 2nd place walks away with 12,500 AVA, 3rd place takes 7,500 AVA, while those that fall within the 4th and 10th position share from a pool of 12,495 AVA.
However, to participate, you must make sure you register and sign up on both platforms.
What are the Selection Criteria?
Since there won't be just a single winner, a selection criterion has been placed to let you know how winners are selected. These terms or criterion include:
Selection of winners will be based on their total trading volume, which cuts across all AVA trading pairs.

Only orders that have been completely fulfilled will be added to the total trade volume

Any outside trades made during the event period will be rendered invalid and will not be counted

Wash trades and any other trade considered to be fraudulent will not be counted as part of the total trading volume during this competition.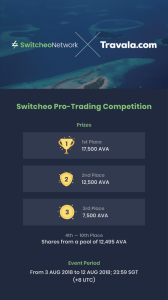 To wrap it up
Travala, Switcheo, the Pro-trading competition – this is another way cryptocurrencies intends to take people to the next level of the digital world. Want to be a part of the competition? Then sign up, get yourself some AVA tokens, start trading on the Switcheo exchange. Who knows?! You might just come out in 1st place.