The Nephilim is a decentralized, independent organization of people from all around the world that have a common vision that runs on the NEAR blockchain, consisting of 666 animated NFTs designed and crafted by a collection of artists.
Non-fungible token (NFT) has become one of the most popular topics at the moment when it comes to digital marketing. In reality, dealers of digital assets are even more familiar with the developing features and advantages of NFTs.
The launch of NFT platforms has made selling NFTs much easier as they provide the best possibilities to sell NFTs legally and stress-free.
Furthermore, there have been new challenges and concerns concerning trading NFTs. New traders are having difficulty marketing their assets, and experienced traders are having difficulty purchasing NFTs.
Background
The Nephilim began with 666 NFTs on the NEAR protocol, with the goal of creating a decentralized building community. Its whitelist opened in May 2022 with only 666 initial supplies of NFTs. It is distributed on Discord and Twitter.
What is The Nephilim?
The Nephilim Project is a decentralized, independent organization of people from all around the world that have a common vision. It runs on the NEAR blockchain. Nephilim NFTs are originally 666 animated NFTs that run on the NEAR protocol, designed and crafted by a collection of artists representing various art styles from real-world game backgrounds, incorporating weapons and gear into their work, and granting them exclusive access to the Nephilim DAO.
The project aspires to create a decentralized autonomous organization that will allow community members with diverse skill sets to collaborate and give services in exchange for fair compensation via their Web3 freelancing platform based on the NEAR protocol.
Nephilim Freelance Platform
The House of Nephilim is inextricably linked to its freelancing platform. This DAO serves as the main creator hub.
Reinforcing this DAO is required for all freelancers who want to start working. The DAO's membership profile will serve as the freelancer's primary identity. It will also enable job providers to choose the best candidates based on their skill set and budget.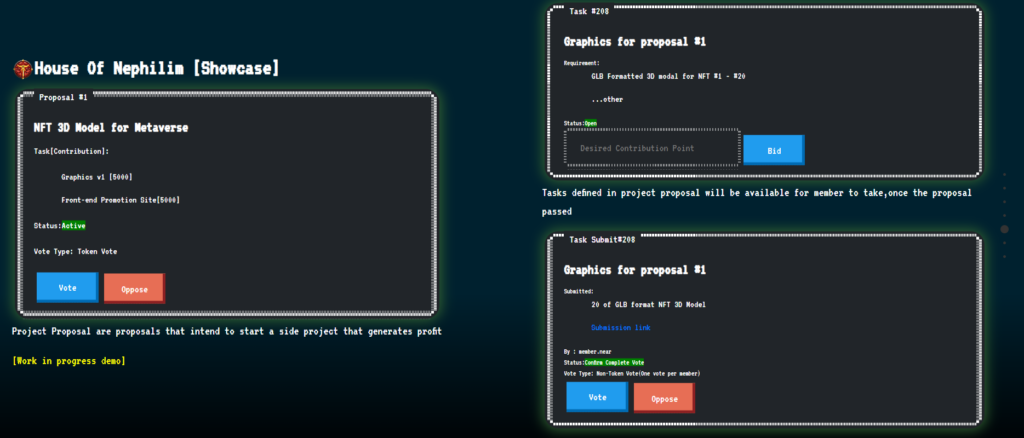 The House of Nephilim also oversees the quality of its freelancers and provides the possibility for job providers to use its DAO to supervise their jobs.
Working Groups
Qualified members of the DAO will also be able to form working groups, such as a group of painters forming a working group to perform a specific task. Groups can also offer work as a unified entity. When a group is formed, our smart contract will let contractors configure the profit split.
Guilds
A guild is a community of individuals who are led by several members of the highest level. Each member who meets a certain contribution to the overall will be elevated in rank. Furthermore, guilds will provide an additional layer of governance for the quality of contractors in the DAO.
Collaborative coaching will be the key method for guild members to supervise one another and improve overall job quality.
Holding a Nephilim NFT
Since anybody can contribute by completing activities and collecting rewards, Nephilim NFT holders will benefit from the tasks' shared reward division.
Holders of Nephilim NFT will be able to participate in the revenue generated by our freelancer platform. The holder's revenue share is determined by the number of NFTs they own. Having numerous NFTs allows the holder to take advantage of the staking multiplier.
Holders will be able to enhance their NFT staking payout in the future by burning a particular amount of tokens using our gamified staking contract. In addition to the revenue share, the holders receive a 50% royalty share from the secondary market.
Revenue share based on tiers from the Freelancer platform and the Project Launchpad tool
The secondary market royalty split is 50%
Tier-based revenue distribution from any income generated by other side tools
Aside from the items outlined above, more value for the Nephilim NFT holders and community supporters will still be added in the future.
Staking Nephilim NFT
Nephilim allows global investors to participate in Token of Certainty tokens while they are already in development. By staking the Nephilim NFT, traders can be confident that their funds are secure.
The value of the locked tokens will immediately enable access to equity ownership in the issuing party by packaging the Token Generation Event into Nephilim NFTs and dispersing Near from crowd sale investors directly to token holders.
Nevertheless, the NFTs will not be given equally to all network participants. In the model, only a limited number of tokens may be obtained by staking Nephilim, and users must stake their own Nephilim to gain access to the unlocked tokens available for distribution. Nonetheless, it provides a financial incentive for all individuals who follow the program. It also ensures scarcity in the collection, which helps stakeholders and marketplace listings where players buy and sell rather than removing them from the market.
The Partners of Nephilim Team
The Nephilim team partnered with SSS to give users the option to pay with $UTOPIA.
The team collaborated with El Cafe Cartel, which is responsible for their initial token creation.
They also collaborated with NEKO token, which will organize a bug bounty event on our freelancer platform.
Developers of Nephilim teamed together with NEAR Future to offer the NF: Classic Teaser Mint!
The Takeaway
The numerous breakthroughs and advantages of NFTs have led many others to believe otherwise. Furthermore, the current involvement of NFTs in a variety of domains like art and crafts, music, and so much more helps to maintain a positive outlook on them.
Staking the Nephilim NFT lets traders experience medieval and Nordic characters which were taken from the mysterious beings or people from the Hebrew Bible who are big and strong. These NFTs, whatever their appearance is, could influence everyone's mood and creativity to mint even more of these.
This offers up an entirely new universe for collectors and artists alike, allowing them to generate and trade digital assets in an trustless and decentralized manner. Not only art is being tokenized in this manner, NFTs are being used to represent a wide range of various assets.
This signifies that the opportunities for creativity and invention are almost infinite, as anyone with an idea may construct their own one-of-a-kind item and build a community around it.