What is Refinable?
Refinable is the first mainstream NFT marketplace on Binance Smart Chain (BSC). It enables users to create, collect and trade any type of digital content on BSC with ultra-fast speed and low costs. Refinable provides a direct, easy, and no-coding experience for various digital goods.
Refinable serves three groups of users, NFT creators, traders, and collectors. Refinable platform enables users to create and tokenize the content; Refinable is also a marketplace for users to explore and search for different NFTs from various sources; users can trade and distribute non-fungible tokens freely and leverage Refinable platform to get financial incentives from NFT goods.
Why Refinable is different from traditional NFT marketplaces?
Refinable aims to build a trustworthy marketplace. Users can trade precious and limited pieces of digital assets, including collectables, digital art, website domains, gaming items, files and so on.
Refinable ensures the scarcity of each digital asset. Creators can choose to mint digital content in limited quantities or access existing NFTs from compatible blockchains. The scarcity helps creators avoid the emergence of secondary markets.
Distribution methods can be customized. Refinable provides corporate solutions to distribute digital content via simple purchase, auction, redemption and so on.
Various content formats. Refinable try to satisfy different demands of users, thus it supports many types of content, varying from 2D images, 3D models, website domains to music files.
Decentralization. Trades on Refinable will rely on Binance Smart Chain (BSC) and smart contracts.
Community governance. $FINE token holders can participate in proposal creating and voting. Community members can also enjoy financial rewards as well as other privileges like exclusive sales or increased limits.
Cost-efficiency. BSC provides a fast, affordable and safe transaction environment for Refinable. Plus, service fees on Refinable is quite low, too.
What are the main features of Refinable?
On NFTs creation side, Refinable supports creators to mint their artworks to ERC721 or ERC1155 tokens. Creators can adjust the scarcity of each work, the quantity varies from unique (1 of 1) to limited (up to 5). Royalties can receive up to 1% secondary sale commissions. NFTs can be bundled to become a new NFT unit. Customers can tokenize any type of content and customize the preview of this content. For private files, some can only be fully accessed by the owner without preview.
On NFTs searching side, Refinable aims to provide a smooth, intuitive and interesting NFT exploring journey. Refinable platform will termly select and recommend featured content that is voted by the community. Creators' account can get verified by the system. Users can show build an NFT list to group similar NFTs on the profile page. Users can create social channels to discuss or promote NFTs. Historical activities of users and NFTs will be recorded on the blockchain. Token holders can be prioritized to buy NFT listings.
On the trading side, Refinable provides a wide array of transaction types. Transaction methods include one-click purchase, highest-bid, on-approval bid, gift, etc. The creator can benefit from royalties from secondary sales. Transactions can be settled in different tokens with a set-in token swap function. Transaction fees on Refinable are affordable, and they can be even lower for verified token holders.

On the future leverage side, Refinable supports various ways to unlock the value of tokenized content. Partial collectors can provide liquidity on secondary markets while benefitting from the value transfer on the primary token. Users can lease NFTs or use NFTs as collateral for a loan. Proper price discovery will facilitate more accurate valuation.
The $FINE Token
$FINE token is the utility and governance token of Refinable platform. It is a BEP20 token on BSC. Holders will have extra benefits if they hold verified amounts of $FINE.
$FINE can be used for transactions. $FINE holders will have priority to NFT listing. Creators who hold $FINE can increase minting and TX limits. Holders will also enjoy a discounted service fee and have early access to pre-sales. At last, token holders can propose and vote to decide the future of Refinable.
The token economy is shown below.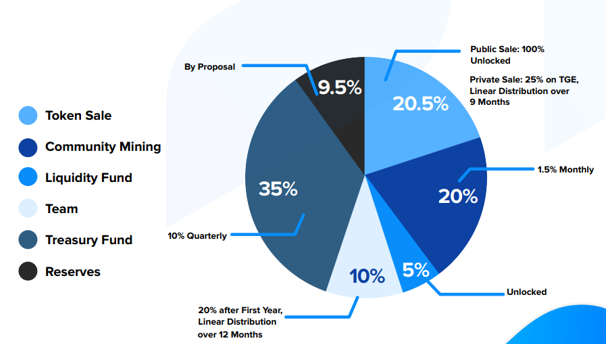 The highest contributing users on the platform will be rewarded via community mining every two weeks. And interestingly, there is a mechanism to ensure a wider distribution in the community.
The Treasury Fund will be used for platform and ecosystem development activities. Liquidity Fund will be reserved to provide liquidity and other bounties in the future.
The $FINE token sale details are shown as follows:

Roadmap and milestones
Some key functions of the Refinable platform and community will be launched in the first 3 quarters of 2021, details as below.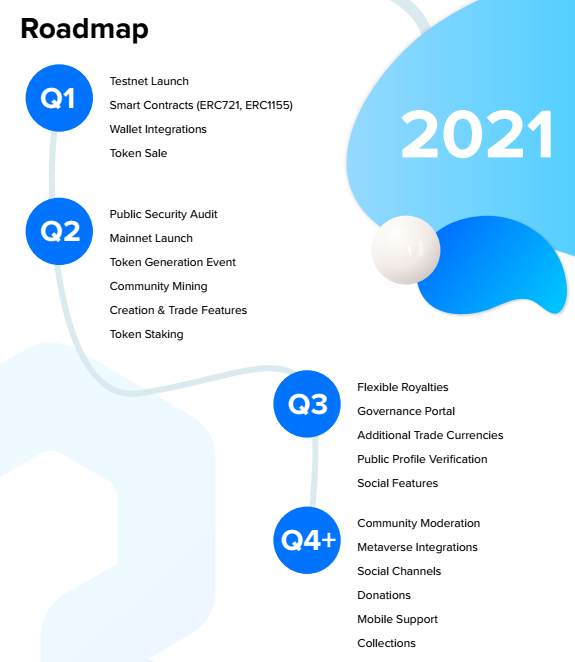 Refinable

Refinable on Boxmining: https://boxmining.com/refinable-fine
Refinable website: https://refinable.com
Refinable Medium: https://refinable.medium.com