Plus Token was a scam that caused a huge sensation in 2019. Launched in May 2018 with the intention to become a cryptocurrency wallet. It attracted large numbers of Chinese and Korean investors collecting over USD $3 billion worth of cryptocurrencies. However in June 2019, affiliates found that they could not access their commissions. In this article we give a rundown of the events since PlusToken was discovered to be a scam. And the speculation that those behind the scam had caused Bitcoin prices to drop when disposing of their victims' cryptocurrencies.
How did Plus Token Work?
Plus Token entered the cryptocurrency space with a huge array of glamorous events and promotional videos. The people behind the scam used foreigners to be the "face" of the brand. One of their videos shows a professional looking man claiming to be Plus Token's "Hong Kong Founder". In the other video, we see a huge meetup organised by Plus Token, with delegations from China, Korea etc.
Plus Token also held smaller educational seminars in various countries in Asia and even in Germany. The seminars would explain to newcomers what Plus Token was, and more importantly, how they could reap huge rewards by participating.
Victims are lured to invest in Plus Token with promises of high returns and low investments. Meanwhile, to give people that they were a legitimate business, Plus Token pretended that the funds collected from users were being used to develop cryptocurrency related products such as their online wallet and exchange.
Older members rewarded with high returns, which are in fact recent investments from newer members. Plus Token promises huge bonuses to any members who refer others to invest. Investors were divided into "levels" based on the amount of their investments and referrals made. This meant the more a member invested or referred, the higher the rewards.
Plus Token Timeline
May 2018: Plus Token launched with the intention to become an online cryptocurrency wallet which would reward users with high returns if they purchased the wallets' PLUS tokens using Bitcoin or Ethereum. The people behind Plus Token alleged that the PLUS cryptocurrency would eventually be listed on Chinese exchanges and holders would get around 9-18% monthly return on investment.
June 2019: Transactions from the cryptocurrencies users originally paid to Plus Token began to surface. Some contained the comment "Sorry, we have run".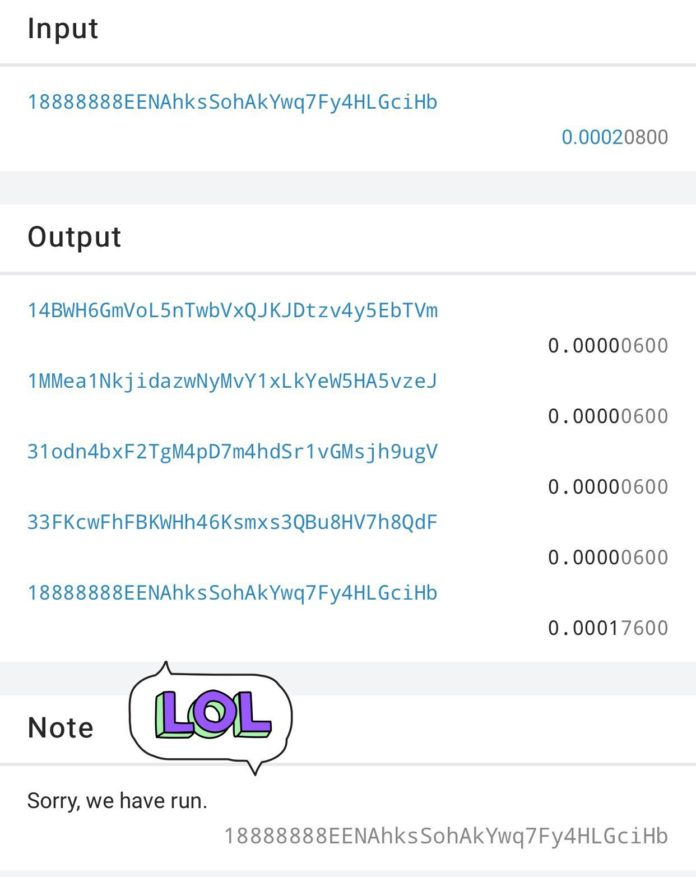 29 June 2019: 6 Chinese individuals connected to Plus Token were arrested by Chinese law enforcement agents in Vanuatu.
30 June 2019: Users began to complain on Weibo that they were unable to withdraw their funds for over 35 hours.
July 2019 onwards: PlusToken and their higher level leaders make various promises to others that Plus Token will return.
August 2019: Rumours begin circulating on Chinese cryptocurrency groups that those behind PlusToken are trying to sell off the cryptocurrencies obtained from users. And that this is crashing the Bitcoin market due to the huge volume involved.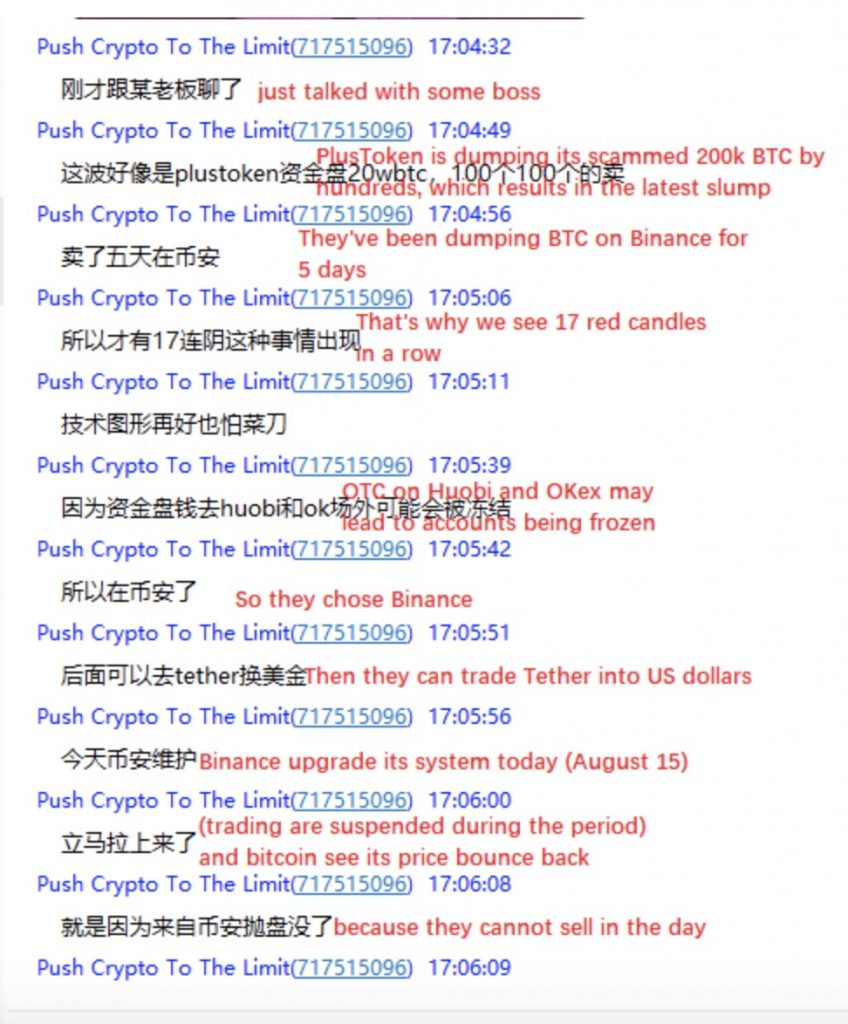 November 2019: Report from Twitter user Ergo states that around 187,000 BTC involved in the scheme had been traced. The funds were shuffled and then sent to different cryptocurrency exchanges such as Huobi for sale.
Plus Token caused cryptocurrency price crash in past few months?
As seen above, rumours have been circulating that the sell-offs from Plus Token are correlated to the price movement of Bitcoin. In particular, on 15 August 2019 Bitcoin prices did not continue falling. Coincidentally when Binance, one of the main exchanges used by the Plus Token scammers, had its trading suspended.
According to the Chainalysis report, they have tracked down approximately 800,000 ETH and 45,000 BTC belonging to Plus Token investors. Of those amounts, around 10,000 ETH and 25,000 BTC respectively have been cashed out.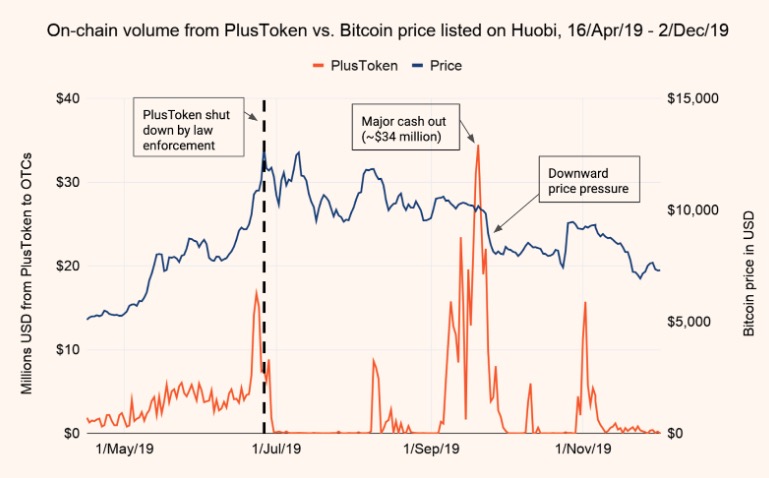 The remaining BTC has been spread out and moved across various addresses. And as we can see from Chainalysis' chart, major sell-offs from the Plus Token team in September and November 2019 have resulted in sudden dips in the Bitcoin prices.
Meanwhile the ETH had remained in an untouched wallet for months. Until 19 December 2019 where Twitter user Whale Alert reported that 789,525 ETH (worth around USD $105 million) was transferred out of a known PlusToken wallet to another wallet.
So far, the price of Ethereum has not crashed. But this may be because the ETH has not been sold on the market yet. We will have to see what happens when there are further movements on this unknown wallet.
What's next/predictions for further PlusToken sell-offs
Meanwhile, according to Twitter user Ergo, there is around 58,000 BTC which has not been sold. Based on their analysis, an average of around 1,300 BTC is sold daily. Thus based on Ergo's estimates, it would take around 1.5 to 2 months to finish selling off the remaining BTC.
So hopefully with the sell-offs drawing to its conclusion, the prices of Bitcoin will not be as volatile. However, based on the Chainalysis report there is still a lot of ill-gotten ETH to be sold, so it's possible the prices for ETH can be very volatile in the coming few months.