Tron CEO Justin Sun has canceled his much-anticipated charity lunch with Warren Buffett that was set for Thursday (July 25th), he has revealed on Weibo this morning. The post by Sun was revealed by Mia Tam on Twitter and was later confirmed by the Tron foundation. 
The post on Weibo by Sun read:
"Thanks to friends from all walks of life for their concerns, I was in a hospital for sudden kidney stones, and I canceled the lunch with Mr. Buffett. At present, the physical condition is all stable and in the recovery period. I cannot accept the interview. Please forgive me. After the recent physical recovery, you will soon meet the outside world. The donation to the Glide Foundation has been completed and is still valid."

The reason for the absence at the charity lunch which Sun bought for over $4 million dollars is due to the Tron CEO having kidney stones. The tweet read:
Both parties have agreed to reschedule a new date but this must be a real disappointment for Sun, who has already invited numerous attendees from the crypto space. The key people in the industry who had been invited by Sun to Quince, a three-Michelin-star restaurant in San Francisco are big players in the industry.

The figures with an invite include: Jihan Wu, founder of Bitmain and his new company Matrix; Ethereum's founder, Vitalik Buterin; Litecoin founder, Charlie Lee; the founder and CEO of trading platform eToro, Yoni Assia; head of the Binance Charity Fund, Helen Hai; Jeremy Allaire, the CEO of crypto payments firm Circle and as of today, Chris Lee the CFO, Board Secretary and VP of International Business Development from Huobi.

Sun had used this event as a huge PR move for him and the industry as a whole. The attention-grabbing headlines notched up after he invited US President Donald Trump. This was after the US President claimed that Bitcoin and other cryptocurrencies were hot air and he was against them.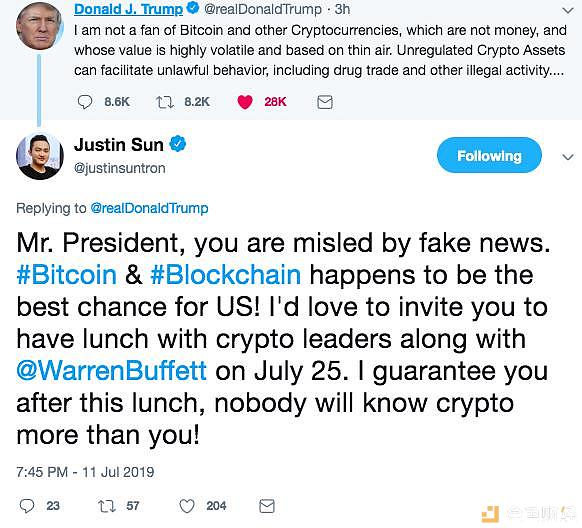 Buffett lunch: a big moment?

This has been seen as a huge moment for the crypto community. Buffett is the biggest investor known and has been hosting these charity lunches for a long time. However, he has often been skeptical, to say the least about the cryptocurrency industry. Sun, acknowledging Buffett's crypto scepticism in an interview with Forbes, saying:
"I don't think we can convince him that all crypto and blockchain is good, but I hope he walks away knowing more about the industry and its potential."

How much this will do for the industry as a whole is questionable, yet it will keep giving more exposure and potentially mainstream adoption for the future. Despite this, we wish Sun a speedy recovery and hope the much-anticipated lunch will be rescheduled soon. The bad news for Sun has continued. The news has caused a TRX drop by as high as 8.9 per cent from $0.02862 to a low of $0.02607. It has as of today dropped 5.80%.