Compound, the now-leading DeFi project, has recently hit a new milestone as its CEO just announced that the lending platform's supply has reached a billion dollars. But it is far from being the only remarkable asset in the space. After all, no asset class is on par with DeFi in terms of investment ROI as of the first half of the year.
The entire DeFi space has been soaring for the most part of 2020. In fact, DeFi tokens have skyrocketed by 237%, dwarfing stocks, bonds, and even non-DeFi cryptocurrencies. Obviously, we have Compound to thank for that, but several other remarkable tokens deserve credit too.
How Compound Became the King of DeFi
Ever since Compound started issuing its governance token COMP on June 15, its price has surged significantly and quickly became the largest DeFi project, leaving MakerDAO far behind in terms of market cap.
Compound's market cap has reached roughly $2.41 billion while Maker's is merely around $450 million. This makes Compound's market cap five times bigger than Maker's. There's a huge dropoff between the leading project and the rest of the DeFi market, but Balancer and Synthetix isn't too far behind Maker.
The question is, could they ever compete with Compound at this point? In terms of locked-up assets, Maker and the others aren't too far behind. But Compound is still ahead with $629 million locked up.
Other Trending DeFi Assets
Going back to the broader DeFi market, we've witnessed several outstanding performances from projects like Kyber Network (KNC), Aave (LEND), Ren (REN), and many more.
From year-to-date, KNC and Aave alone have skyrocketed by 567% and 447% respectively, making them the highest-growing DeFi project of 2020, surpassing even Compound. But to be fair, COMP is only 15 days old as of press time, which means it could still grow tremendously higher than it's current market cap.
Let's take a look at a study of the performance of the highest-growing DeFi tokens in the first half of the year, against BTC and ETH. This time we shall exclude COMP as it is still very new. Included in this list are MKR, LEND, KNC, REN, LINK SNX, REP, LRC, NMR, and BNT.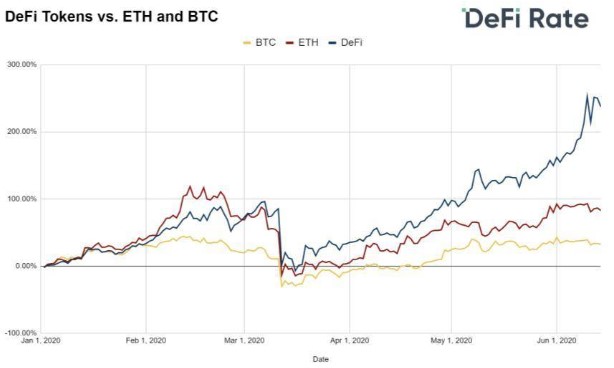 As you can see from the graph, the growth of DeFi tokens is substantially higher than ETH, and even more so against Bitcoin.
In June 9, Morgan Creek Digital founder Anthony Pompliano stated in a tweet that "Bitcoin has been the best performing asset during the recent crisis".
While his data was correct, his conclusion is apparently false. He forgot to include other assets like Ethereum and DeFi tokens, which have performed exceedingly better than Bitcoin.
If we were to insert ETH and DeFi into Pompliano's Performance Summary, it would look somewhat like this:
S&P: 1%
Nasdaq: 2%
Gold: 11%
Bitcoin: 35%
Ethereum: 82%
DeFi: 237%
For now, we can conclude that DeFi has been the best-performing asset class of the year by a long shot.