Bitcoin's bullish run is on, smashing the "mother of all resistances" at $6,000 and its value now is at a reasonable $6,810. Speculators that can make Bitcoin price prediction 2019 say that Bitcoin price will probably hit the $11,500 level by the end of 2019 since it has broken its lower psychological resistances of $5,800. Price analysts are also predicting another significant bull run, and gongs are sounding out loud that the time to get affordable BTC Satoshis is now or never.
Jack Buying $10k worth of BTC every week
Twitter's CEO Jack Dorsey has been very vocal about Bitcoin's potential and has even voted it as internet's future "native currency". The tech leader recently revealed that he is spending ten thousand bucks weekly on BTC awaiting a significant bull run in the crypto market.
Speaking on why he could not participate in Twitter's Stack Sat Saturday Jack said that "I would have participated, but I've already exceeded my limit." Jack who is also the CEO of Square a payments processor noted that "there's a massive acceleration that's going to happen within the next 10 years."
How About Bitcoin at $1 Million?
Jack Dorsey's Bitcoin price enthusiasm, however, has nothing on John McAfee's, who has with horrid consequences if wrong, predicted that BTC will have a $1 million before 2020 winds up. The club of Bitcoin skin in the game investors who believe Bitcoin will be worth million's in the future is, nevertheless, growing by the day.
Social Capital founder Chamath Palihapitiya, in 2012 had in his possession over 5 percent of all Bitcoin in circulation. He projects the value of Bitcoin to "cross the $100k mark in less than 4 years and then move on to the $1 million mark by 2037." This thing has the potential to be comparable to the value of Gold…" Chamath remarked.
Wences Casares, Xapo's founder, is also a $1 million Bitcoin price believer but his prophesy's maturation date is 2027. Cameron of the Winklevoss twins believes that the token's market cap will hit the $5 trillion mark by 2038, a value close to the current Gold cap of $7 trillion. Cameron says: "Gold is scarce, Bitcoin is actually fixed. Bitcoin is way more portable and way more divisible. At a $300 billion market cap, it's certainly seen a lot of price appreciation, but Gold is at $6 trillion and if Bitcoin disrupting Gold is true, and it plays out … then you can see 10 to 20 times appreciation because there is a significant delta still."
What about the Pragmatists?
Roger Ver, aka Bitcoin Jesus, is one of the most well known Bitcoin evangelists. With his enthusiasm though, comes an almost equal measure of controversy. Roger purchased his first Bitcoin in 2011 when its value was a low $10. His past Bitcoin price predictions on Bitcoin's rise have been almost bull eye hits. His 2011 $10,000 bet that BTC will outperform Gold and USD in two years by a 100 factor missed its mark by only 2 months.
Ver has said that Bitcoin price could be worth at least $250k soon although his sentiments have turned to favor Bitcoin Cash.
Tim Draper says
Also, Tim Draper, the venture capitalist, is also part of the $250,000 class, once saying on Reddit that "I'm thinking $250,000 a Bitcoin by 2022…. They're going to think you're crazy but believe it. It's happening, and it's going to be awesome!" Draper has in the past correctly predicted the Bitcoin price. In 2014 for instance, he said that the coin would be worth at least 10,000 in four years despite its low $472 price then. He went on to purchase 30,000BTC at a Silk Road auction to boot and made incredible returns in the 2017 Bitcoin Bull Run.
Fundstrat Global CEO Tom Lee, $91,000 Bitcoin value by 2020, comes close to Tai Lopez's $60,000 Bitcoin price prediction.
Meanwhile, Lopez of the 'Lamborghini in my garage' ads explained that "if the world's millionaires allocate merely 1 percent of their holdings into Bitcoin, the Bitcoin price could reach $60,000 in the mid-term."
With so many legacy financial institutions like Fidelity, Intercontinental Exchange and J.P Morgan Chase making major waves in the crypto market, it is highly probable that Lopez might see his dream BTC price actualized soon.
Here are the Pessimist
However, there are 10 Bitcoin bears for each Bitcoin bull, and the skepticism regarding Bitcoin's sustainability has been louder than the optimism. Joe Davis of the Vanguard Group, in illustration, has said that "as for Bitcoin the currency… I see a decent probability that its price goes to zero."
Bill Gates a notable Bitcoin critic has also inferred that the Bitcoin price value will drop to zilch. "As an asset class, you're not producing anything, and so you shouldn't expect it to go up. It's kind of a pure 'greater fool theory' type of investment." Despite Gates being BTC skeptic, his firm Microsoft is all bullish on Ethereum. Microsoft has launched an Azure Blockchain Kit for Ethereum that will help developers to create dApps and crypto as well.
BTC/USD Price Chart. Price prediction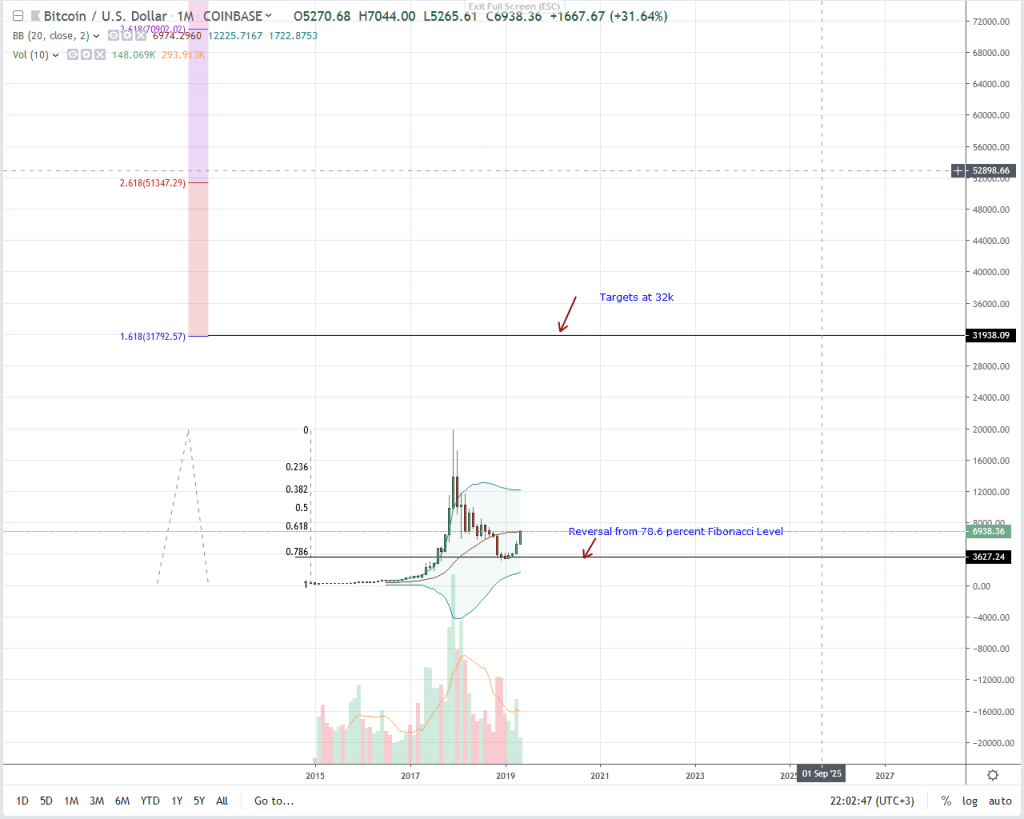 Well, there are views of critics, supports and perma-bulls. In the long-term fundamentals will guide price but in the short-term, it's all about price action. We can glean what the future holds just from the charts. But, the first thing that's apparent in the monthly chart is the rapidity of this month's expansion. If we paste a Fibonacci retracement tool, anchoring our positions on the coin's high low, it's clear that Bitcoin (BTC) is reacting at the 78.6 percent Fibonacci retracement level. That's after last year's slide that saw prices tumble from its all time highs of $19,900—or so. That's not all. Bulls are on an uptrend, reversing Nov 2018 losses and as prices retest the 20-month MA, we are more likely to see trend continuation of Q3-4 2017 now that the over-extension of Dec-Jan 2018 is complete. In this case, and from Fibonacci retracement rules, Bitcoin prices will most likely retest $20k by close of the year of early Q1 2020. After that, our feasible target is 32k by mid-2021 and later $50k by 2022.
The Future of Bitcoin
The Bitcoin (BTC) Genesis block emerged on Jan 3, 2009, and the token has been on a roller coaster ride of sorts since then. Its adoption globally in the last decade has been exhilarating. There are many use cases cited by institutional investors and the massive trading volumes from speculators are fuelling its growth further.
So, it is recognized as the king of crypto, despite the emergence of many other altcoins, all fighting it for its position and influence. The token's full mass adoption and Bitcoin's social integration is however still a work in progress and unrealized. As a result, it is possible therefore that the Bitcoin bull forecasts have more substance and the digital asset will see its value skyrocket in the medium to long-term.
Finally, we hope that our Bitcoin price description 2019 will be objective.