Chinese Cryptocurrency stocks started to rise on Monday of this week, in an increasingly interesting development for the market.

According to News Bitcoin: "Ethereum, the world's second most significant cryptocurrency by market cap, surged as much as 14 percent against the US Dollar during the Monday's Asian trading session. Bitcoin, the dominant crypto, also posted an impressive 3% gain, according to 24-hour readings of CoinMarketCap.com."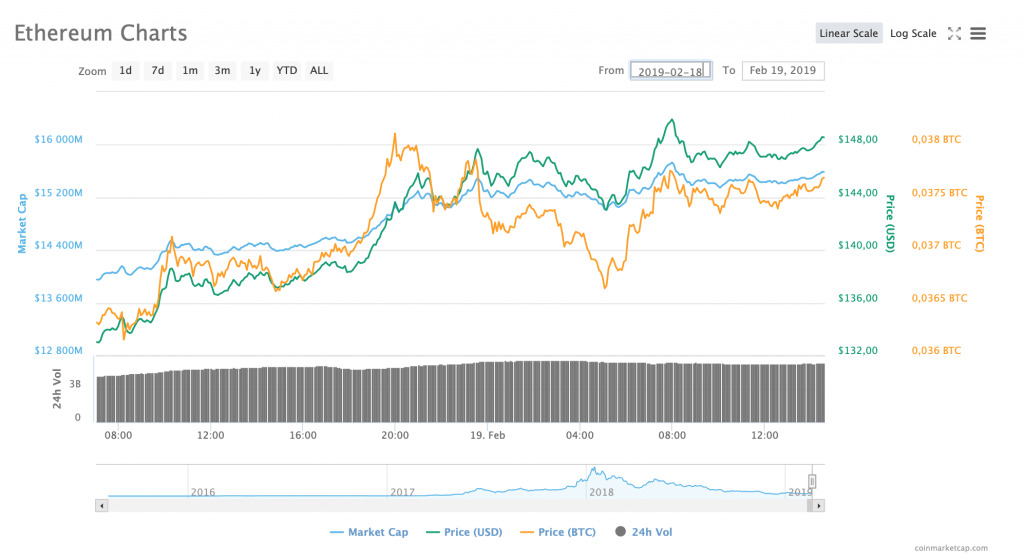 This rise matches an overall trend exhibited in the stocks across the country's financial entities. On Monday, Chinese stocks rose more than 3 percent, a jump not matched since November 2018. The CSI 300 Index (SHA: 000300), which lists China's major stocks from technology, telecom, healthcare, and finance, rose up to 3.2 percent. Not only that, Hong Kong's Hang Seng Index (NDEXHANGSENG: HSI), which lists stocks of the region's largest companies, surged by 1.7 percent.

The good news didn't stop for crypto there though. The cryptocurrency market gained more than $5 billion to its market capitalization. Leading coins also confirmed that they were bottoming out.

This has been a memorable week in China for crypto. Blockchain technology also made a splash onto the front page of People's Daily, the number one newspaper in the nation, in another huge step for legitimate acceptance in the nation for the technologies ideas.

Why the Market Coming Up
But what has sparked this sudden rise in the stocks? Many have pointed out that the words of Donald Trump the US president may have been a factor as he pre emptied his trade talks with China claiming they were reaching a conclusion in a tweet:

Important meetings and calls on China Trade Deal, and more, today with my staff. Big progress being made on soooo many different fronts! Our Country has such fantastic potential for future growth and greatness on an even higher level!

— Donald J. Trump (@realDonaldTrump) February 17, 2019
This certainly caused a spike for the crypto market especially as news outlets began to say that the talks were positive. It seems to be a worldwide trend, as even European markets have seen a shift upwards. The STOXX 600 rose 0.7 percent during the early morning session on Monday.

---
However, let's not get our hopes up too much.Ultimately, a lot depends on the trade talks between China and the US to go smoothly. Crypto is still experiencing a bear market and although this is a considerable spike in comparison to what has been seen before, I wouldn't start screaming a bull run and getting over excited. Nevertheless, the change in fortunes is welcome!