Wong Ching-Kit might be only 24 but has caused a stir in the cryptocurrency world so far. He has two police records on his back for theft and, last week, for social disorderly conduct. But Wong is best known for being responsible for the biggest marketing stunt Hong Kong has ever seen.
What Do You Know About the Hype, Kid?
Promoting his most recent cryptocurrency mining computers, he planned an audacious move to catch people's attention. He announced on a video posted on Facebook:
"Do you believe money can fall from the sky?"




He said standing in the middle of a street of the poor area of Sham Shui Po, Hong Kong
---
And straight after that, as if orchestrated, from the buildings' rooftops, HKD 100 notes were hurled to the stunned pedestrians below. Soon clouding the blue skies with a rain of notes.
The police did nothing against Wong until last week when he returned to the streets of the same money raining stunt area. But this time around, he handed over himself 500 bills to bystanders. Just like he was handing out ordinary gym membership flyers. But to people's surprise, it was money.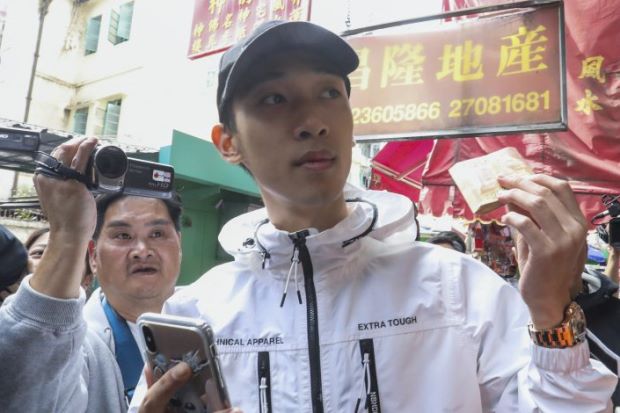 Once again the stunt caused a commotion. But this time the police arrived on time to arrest Wong. He accepted to be handcuffed with tranquillity as if part of his plan. After all, nothing seems to be an accident for Wong, but another opportunity to self-publicity.
It's Easy to Give Away Other People's Money
People that lost money after investing in Filecoin

Wong Ching-kit on a poster
"I lost HKD 120,000. Wong promised us a refund, but ran away with excuses."

Ms. Chiu, investor of the mining machine sold by Wong Ching-kit
---
Now Wong's investors are coming forward in increasing numbers each day to unmask the streets' hero. Under the mask it's an egomaniac con artist, they all claim. They said Wong's digital currency (FileCoin) failed to make it into the trading market after 3 months. The exact months' time promised by Wong to a refund in case the investors had no profit. They demanded a full refund.
The investors sent letters to the local government urging more severe measures to regulate cryptocurrencies.
On his turn, Wong expressed his irritation on his Facebook business page. He defended himself from all the allegations, saying he feels victimized by his investors.
"I sell mining machines only, but I am treated as if I have killed people".

Wong on his Facebook page
---
He carried on saying that when the investors make money, they don't share the profits with him, but when they lose they demand a refund. It's part of the business game, he claims. Confident he even encourages the investors to report him to the police.

As a matter of fact, 10 people reported him to the police in the past months, accusing Wong of cheating and making them lose the total amount of HKD 940,000.
The police are preparing to take action into investigating the suspicious large amount of money in Wong's bank account. A possible money laundering accusation case if the 24-year-old could not explain its source.