Bancor Protocol takes advantage of smart contracts to build a decentralized, interoperable, and highly-liquid token exchange protocol.
It became popular in the decentralized finance (DeFi) space shortly after having introduced smart tokens that facilitate instant exchange between different ERC-20 tokens in the market, regardless of their volume. Such development has opened a lot of other opportunities to users without having to involve third-party financial service providers in the scenario.
Background
The Team
The team consists of five members of the Bancor Foundation, based in Zug, Switzerland.
Bernard Lietaer, the foundation's council president, is an economist and civil engineer who believes that the current monetary system is obsolete, and could be redesigned.
Other members include Eyal Hertzog, co-founder of video-sharing company Metacafe, Guy Benartzi, founder of gaming company Mytopia, Guido Schmitz-Krummacher, an executive board member of Tezos, and Tim Draper, a renowned venture capitalist Tim Draper.
The Problem
There has been a continuous rise in the number of cryptocurrencies in the space today. With all of them offering different use cases, users will most likely want to have the option to swap them whenever they need to.
The problem, however, is that not all cryptocurrencies can be swapped instantly. This is where the Bancor Protocol enters.
What is the Bancor Protocol?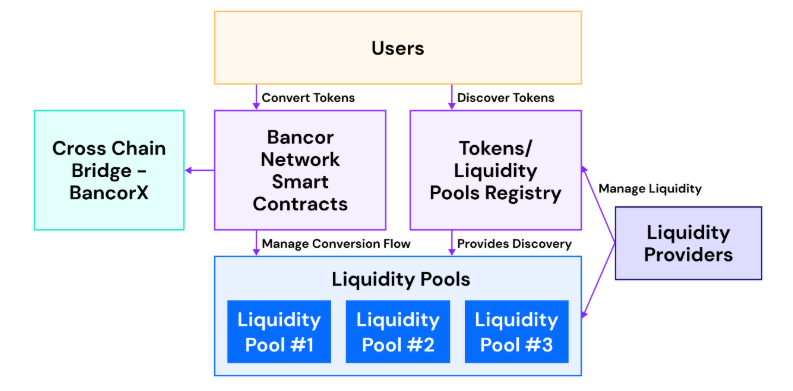 The Bancor Protocol is an on-chain liquidity protocol that can be implemented in any blockchain that supports smart contracts. Bancor runs on both Ethereum and EOS chains, but the protocol can be easily deployed in other blockchains since they are designed to be interoperable.
To put it simply, the system allows for an easier conversion of virtual currency tokens from one another without having to go through centralized cryptocurrency exchanges. When you look at the exchanges today, not all small-scale currencies can be easily swapped to other more prominent cryptocurrencies like Bitcoin or Ethereum.
This is exactly the problem that the Bancor Protocol is addressing.
Bancor operates its exchange with the help of an AMM (automated market maker) system powered by smart contracts. There is no need to find another party to trade assets with, allowing for instantaneous swaps whenever a user wishes to. It also does not need any involvement from middlemen or exchange operators to execute conversions.
Smart Tokens
Bancor also introduced the 'smart tokens' to achieve liquidity for its protocol. Smart tokens are ERC-20 tokens that seek to provide continuous liquidity to the network while constantly keeping its token prices updated.
Smart tokens are designed to instantly facilitate buy and sell orders for any digital asset. And in facilitating conversions, smart tokens are faster because they do not need to be listed on exchanges in order to achieve liquidity.
Because every transaction is facilitated by smart contracts, users do not need to worry about having to deposit their assets in exchanges.
Smart tokens function through smart contracts that hold a reserve of at least one other ERC-20 token or a different smart token. Smart tokens are minted whenever it is purchased and burned when it is liquidated. Any user can easily purchase smart tokens with its reserve token or liquidate it to get the reserve token back at its current price.
The Constant Reserve Ratio
Bancor introduced the Constant Reserve Ratio (CRR) as a new method for price-discovery. Smart token creators are tasked to determine the right CRR for each reserve token. This formula ensures that there is a balance in a constant ratio between the reserve token balance and a smart token's market cap.
Benefits of Smart Tokens
Constant liquidity – Smart contracts facilitate the purchase and liquidation of smart tokens, making them liquid, regardless of trading volume.
Free from additional fees – Smart tokens only charge gas fees but it does not charge any other additional payment on the part of traders.
No spread – Smart tokens calculate the prices of coins algorithmically. It helps that the token is always liquid, which means that it does not factor much in the determination of token prices. The same value is given for purchasing and liquidating smart tokens.
Predictable price slippage – Smart tokens are designed to support pre-calculations on price slippage before a transaction is executed.
Use Cases of Smart Tokens
Crowdfunding – Because the smart tokens are liquid and priced based on their actual market value, it is more convenient for everyone to use them for crowdfunding objectives.
Token Changer – Smart tokens that hold reserve tokens can be used by anyone to make swaps between any ERC-20 token that it holds in its reserves.
Decentralized token basket – Anyone can make a decentralized token basket by just holding a portfolio of reserve tokens on smart tokens. And because smart tokens are powered by smart contracts, there is no need to find a financial intermediary just to build asset baskets.
The Bancor Protocol Ecosystem
Apart from smart tokens, the Bancor Network, which is its ecosystem, is responsible for keeping the features of the protocol running. There are many participants in the Bancor Protocol. These are the forms of participation that form part of the Bancor network:
Users – These are participants of the network who are allowed to receive, transfer, purchase, and liquidate smart tokens.
Creators of smart tokens – These are the entities who can issue smart tokens that the network uses to facilitate trades and token exchanges, and create token baskets.
Tokenizers – These are the entities that issue ERC-20 tokens that represent assets that they want to digitize. The assets that are tokenized are then used by smart tokens as reserves.
Arbitrageurs – These are the users who participate in arbitrage trading that keep the gap between prices on crypto exchanges.
Bancor's Automatic Pricing
One of the key features in Bancor's protocol is automated pricing. With the help of smart contracts behind smart tokens, AMMs have been deployed in the network. These market markers purchase or trade smart tokens with users in exchange for other tokens.
Bancor determines the price of tokens based on the 'Bancor Formula.' This keeps the equilibrium in the supply and demand of smart tokens and keeps the ratio between a token's value and its connector tokens balanced.
Creators of smart tokens are responsible for setting the right amount of ratio between smart tokens and connector tokens. This refers to the 'connector weight,' and can be amended each time smart token creators find it necessary to adjust the liquidity level of a particular token. Arbitrageurs keep the gap between prices on crypto exchanges when they are no longer similar with how tokens are priced on crypto exchanges.
Bancor Network Token (BNT)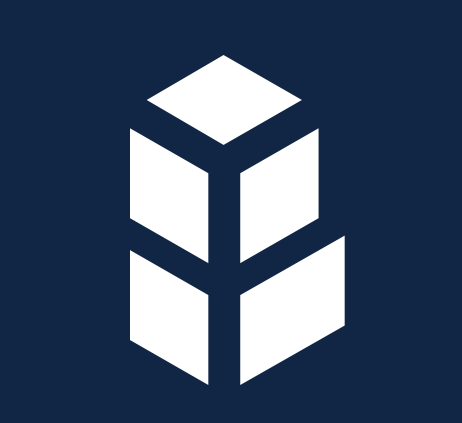 Bancor Network Token (BNT) is Bancor's native token. Each BNT has a single reserve in ETH, and can be used by smart tokens to connect to the BNT network. Every smart token created in the network also holds BNT as one of its reserve currencies.
Users can get BNT by swapping any other token within the network for it, or by buying it with BTC or ETH.
Conclusion
Bancor's innovation made token conversion more convenient for any crypto user out there. With it, they do not need to find any other party who has the asset that they want to trade for. It also showed how effective smart contracts are in facilitating operations in a network without the need for third-party providers.
The project, as of August, remains in the top 20 DeFi protocols in total value locked (TVL), and remains one of the thriving platforms in the space.